Five Fall foods to try
In the month of November, it's easy to get caught up with Thanksgiving food, but let's not forget about the simple fall foods we can make. Here are a few classic seasonal recipes to try at home:
1. Apple fritters
Throughout the season, apples are a common fridge item that are fun and easy to play around with. For a more seasonal feel, apple fritters are a great option for a healthy and crunchy snack item. Plus, as the saying goes, an apple a day keeps the doctor away. You can try this unique recipe here.
2. Slow cooker chili
To keep you warm in this weather, a bowl of chili is definitely the way to go. The nice thing about making your own chili is that you can choose the flavor or spiciness you desire. Kick the flavor with some chipotle powder or even a jalapeño if you can handle the heat with this recipe.
3. Banana and walnut cake
Another staple food item is bananas. They're tasty year-round, and they're a great energy source to give a kickstart to your day. So why not make it into a cake with walnuts and sugar? I tried this recipe myself, and it turned out amazingly delicious. It was soft and not too dry. It wasn't too crumbly, and it had just the right amount of banana, so the flavor was evenly proportioned.
4. Vegan pumpkin cinnamon rolls
For those who prefer a healthier or humane diet, this vegan recipe is for you. Cinnamon rolls are a dessert favorite, but the pumpkin flavor adds a seasonal twist. This dessert is a little tricky, so the recipe includes step-by-step pictures to make sure you can follow along.
5. Pumpkin cookies with cream cheese
Another dessert favorite is cookies, but pumpkin cookies make baking in autumn so much more fun. And what's even better than pumpkin cookies? Stuffed pumpkin cookies. This recipe is different because you can fill these cookies with icing or cream cheese filling to make these cookies taste like a muffin or whoopie pie.
Personally, Fall is my favorite time of year, but many other students also agree since this season allows you to try new foods for a limited time.
"I love this season because you can get creative with so many different flavors and spices," said Zerghania Berki, senior.
Some students see this time of year as a way to become chefs and bakers who love to change things up with the spark of a new taste.
"I love cooking and baking, and especially in this time of year, I like to try new holiday recipes," said Amanda Perez, senior.
Take advantage of this season and get creative with your plate. Pumpkins can be tricky to cook or bake with, but take this season as an opportunity for a challenge or a simple kick of flavor in your diet.
Leave a Comment
About the Contributor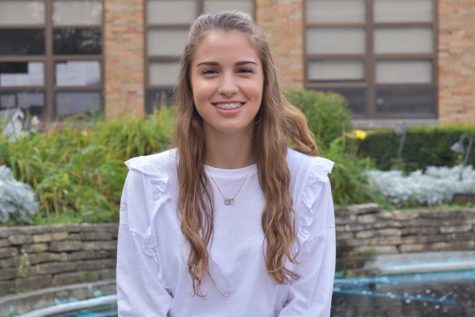 Samia Douedari, Section Editor
Samia Douedari is a senior who enjoys to write whether it's for a class or for fun. Along with being a part of the cross country and track team at Hinsdale...