A day at Dao
After a long day of shopping at the Burr Ridge Village Center, ordering a refreshing plate of sushi at Dao Sushi, Thai and Hibachi Restaurant, is always a good idea.
As I walked in on a Sunday afternoon, I noticed the place was quite calm and empty. The restaurant was dark and had some cool lights that changed colors and popped life into the restaurant. I would recommend this for a nice date at any time of day because of its dim lighting and cute atmosphere.
Scanning the menu, there were many options that ranged from Mongolian dinner dishes to eel sushi rolls. The nice thing about this restaurant is that it pleases both sushi-lovers and those who aren't a fan of it.
I ordered shrimp tempura rolls, which included deep fried shrimp, avocado, cucumber, and eel sauce. The rolls were amazing and easy to chew. The seaweed wrapped around the rice wasn't hard to eat, and the sauce complimented the sushi.
My friend order the Dao Chicken, which was basically a dish of orange chicken and broccoli with a side of steamed rice. She said it was the perfect amount of tangy, since orange chicken tends to be on the tangier side. Overall, she would definitely recommend this dish.
Finally, the restaurant was offering a free dessert if you downloaded their mobile app, so of course, we accepted the offer. The dessert was three fried chocolate cookies with whipped cream. It was tasty, but it was too oily and more savory than sweet.
Dao has made it to the top of the list when it comes to students' favorite sushi restaurants. It's no surprise that the restaurant climbed its way there due to its quality food and great service.
"I love sushi, and there are so many places where you can get sushi, but Dao is by far in my top favorites," said Sarah Badawi, junior.
Along with its calm and warm atmosphere, Dao also has a section in the back of the restaurant where you can practice seiza, which is the traditional Japanese practice of sitting on the floor while eating over a low coffee table.
Overall, Dao Sushi has attracted many students and families, and I definitely recommend this restaurant if you're looking for great service and authentic food.
Dao Sushi is located at 200 Burr Ridge Pky., Burr Ridge, Ill.
Leave a Comment
About the Contributor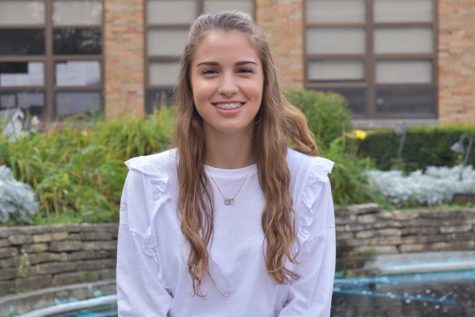 Samia Douedari, Section Editor
Samia Douedari is a senior who enjoys to write whether it's for a class or for fun. Along with being a part of the cross country and track team at Hinsdale...