La Michoacana makes it to the top
Located in Downers Grove, La Michoacana has recently become a popular Mexican ice cream parlor amongst students. It offers a variety of ice cream, as well as Mexican snacks to spice up your trip, such as Flamin' Hot Cheetos smothered in cheese dip, elotes, and numerous kinds of chips.
When I first walked in on a Sunday night, there were a good amount of people snacking on ice cream and elotes. The first thing I noticed was the large ice cream bar and bright colors. The atmosphere was welcoming, especially with the kind staff that greets you when you enter.
As I saw people ordering elotes, which is corn in a cup smothered with mayonnaise, cheese, and chili powder, I decided to try it for myself. I asked for no chili powder, and it still tasted amazing. I was skeptical of this combination, but it turned out to be tasty with a strong cheese flavor. I would definitely get this again.
"Their elotes and mango mangonadas are so good. It's just a fun place to eat a small snack with your friends if you just want to chill without having the break the bank," said Sedra Khan, senior.
Another nice thing about this shop is that you can take fresh ice cream to-go. Being a huge fan of pistachio and pecan, I took home a liter of their pistachio and "chocopecan" ice cream. The pistachio ice cream is different in that it has a lot more pistachios than any other pistachio ice cream I've ever tried. The pistachios are finely crushed so that in each bite you have the right concentration. Also, the chocopecan is delicious because the chocolate and pecan combination is perfectly balanced into a rich, creamy blend.
"It's a good place to try some desserts and sweets from a different culture, and their elotes are super yummy. They also have [Flamin'] Hot Cheetos which seems like a weird combination, but it's actually one of the best things you'll ever eat," said Aliza Daud, junior.
Not only is La Michoacana favored by the student body, but it's also gained attention from those who crave their own culture's food. Being a Mexican ice cream parlor, it pleases many Latinos, for they are able to snack on familiar foods in just minutes of driving.
"I love going to La Michoacana because no other place has my culture's snacks, so it really satisfies my Hispanic cravings. It makes me feel at home, and most importantly, it's delicious," said Amanda Perez, senior.
Overall, La Michoacana has become a popular snack stop amongst students, and I definitely see why. It is cozy and welcoming with mouthwatering snacks and desserts. I would recommend this to anyone looking for a different hangout spot with friends or a date.
La Michoacana is located at 6313 Woodward Ave. Downers Grove, Ill. 60516.
Leave a Comment
About the Contributor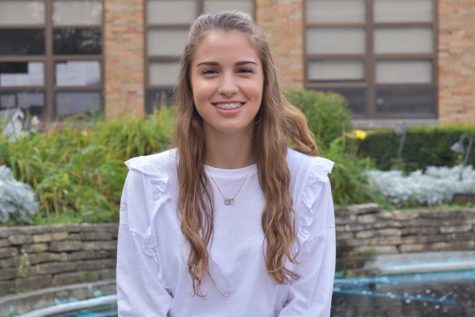 Samia Douedari, Section Editor
Samia Douedari is a senior who enjoys to write whether it's for a class or for fun. Along with being a part of the cross country and track team at Hinsdale...