Breakfast at Butterfield's
Just as Yiayia's Pancake House is a popular breakfast restaurant for students living in Hinsdale, Butterfield's Pancake House is the pancake house that many Oak Brook students love, despite some naysayers.
As I walked in on a Saturday around noon, I noticed the restaurant was very crowded. The staff was friendly as each member greeted me with a smile and warm welcome. The atmosphere was lively with a great deal of chatter and TVs playing. The family-friendly atmosphere included a bustling environment.
Butterfield's is open from 6 a.m. to 3 p.m., so the menu varies from omelettes to lunch sandwiches. Although some believe the food is basic, there still is a wide selection of common breakfast and lunch foods. Being a big fan of breakfast, I ordered the corn beef hash skillet. This dish included onions, green peppers, corned beef, hash browns, and melted Monterey Jack and cheddar cheese, all topped with two eggs cooked to your liking. This also came with a side of pancakes, toast, a biscuit, or corn bread.
The skillet was delicious, and I especially liked the crisp texture of the hash browns. The eggs were soft, and all the flavors were balanced. I would definitely recommend this skillet, especially for those who love a simple egg dish with a little bit of meat.
My friend ordered the veggie omelette, which included zucchini, green peppers, onion, tomatoes, and mushrooms served with a choice of pancakes, toast, a biscuit, or corn bread. She said it tasted amazing and would definitely recommend this plate. She loved how the vegetables were cooked to be soft and juicy inside the omelette.
"I love the food, especially their pancakes. Oddly enough, their ice cream is also delicious," said Gillian Filer, junior.
Although many students are a fan of Butterfield's Pancake House, some might be sick of the simple atmosphere and menu.
"Butterfield's is good, but I think it's overrated, and the food is basic," said Meera Duggal, senior.
However, pancake houses typically serve similar foods, making it an average pancake house where students can enjoy a simple breakfast or lunch without any surprises. For a more unique and varying meal, I would recommend Café Marie-Jeanne for a French-style breakfast or Nana for an organic, Mexican-style breakfast.
Just as there are varying opinions about everything, Butterfield's is still a popular pancake house that has made it to the list of favorites for students. Personally, I enjoyed my experience at Butterfield's Pancake House, and I would definitely recommend this restaurant.
Butterfield's Pancake House is located at 616 Midwest Rd #1, Oak Brook, Ill. 60523
Leave a Comment
About the Contributor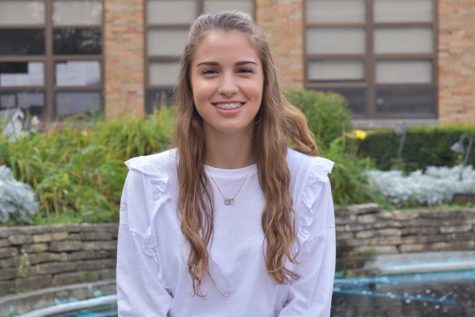 Samia Douedari, Section Editor
Samia Douedari is a senior who enjoys to write whether it's for a class or for fun. Along with being a part of the cross country and track team at Hinsdale...