A kick of coffee
With the holiday season over and months upon months of a cold winter, this may be the toughest time of year as everyone awaits spring. Many students and teachers typically feel worn out, so a nice cup of coffee would really help. Besides the basic coffee chains, here are a few underrated coffee houses:
The beauty about Peet's Coffee & Tea is that it uses richer, darker roasted beans, including Arabica and French Roast, than most coffee houses.
It offers various drinks, including iced drinks and tea. I ordered the "Big Bang", which is just a medium roast the store was serving as its "Coffee of the Day". I usually take my coffee black, so I didn't add any sugar or cream. It obviously wasn't very sweet, but it was definitely bold. Since it was a medium roast, it wasn't too strong and didn't have much caffeine. The lighter the roast, the less strong it tastes and more caffeine it holds.
"Alfred Peet, from Berkeley, Calif., opened the first shop in 1966, and he was the pioneer of making great coffee. He used to use Folgers and Maxwell House Coffee, but he forbade that [and] invested in using more quality beans to give the coffee a richer taste," said Adrielle Canda, team member.
Overall, I enjoyed Peet's Coffee & Tea because it was a good balance for me in terms of the strength and caffeine levels. Also, just as Canda said, it did have a richer taste from the quality beans from Berkeley, Calif. Therefore, I would definitely recommend this coffee house as a quick stop for some energy.
Peet's Coffee is located at 5100 Main St., Downers Grove, Ill. 60515.
Wherever you are, coffee is a must. If you're walking around or shopping at Oakbrook Center and feel the sudden urge for coffee, I recommend you stray from the usual Starbucks run and try a cup of coffee from Stan's Donuts instead. It won't disappoint.
I ordered a small house blend, which is a dark roast. Compared to the medium roast coffee from Peet's, I could tell this one was definitely stronger. I also didn't add any sugar or cream, but it definitely tasted more bitter than the other coffees I tried. If you don't like bitter coffee, you can always go for a lighter roast or even add sugar and cream to sweeten it up. However, I didn't want too much caffeine, so I decided to go with a dark roast.
"I love working here, and all the people I interact with are really cool. Plus, I'm sure we serve great coffee that people would love to drink next to a donut," said Dan Smith, team member.
Overall, Stan's Donuts is mainly known for its donuts, but it doesn't hurt to try their coffee. It's worth a visit, and they have a variety of drinks, too.
Stan's Donuts is located at 529 Oakbrook Center, Oak Brook, Ill. 60523.
Although Corner Bakery doesn't have as much of a variety with coffee, it's still worth trying, especially since it's located about one minute away from Starbucks in Hinsdale. Corner Bakery offers hand-roasted coffee in either "Baker's Blend," Café Europa, Hazelnut, or Sumatra Decaf.
Curious to try hazelnut coffee, I ordered it without any sugar or cream, and it was naturally sweet from the hazelnut. Overall, it was tasty and refreshing, but I prefer a more bitter taste when it comes to coffee. However, this would be a great option for those with a sweet-tooth.
"I always get the hazelnut coffee from Corner Bakery, and it tastes more like a treat than coffee. I love it," said Tatum Lovelace, senior.
Corner Bakery is located at 42 E. Hinsdale Ave., Hinsdale, Ill. 60521.
If you're walking down the streets of downtown La Grange and feel the urge try something new, then visit Owl & Lark. This juice and coffee bar is not a chain, and it offers a variety of drinks and food that are grown locally and mostly organic.
While grabbing a cup of coffee, relax and rewind in its comfortable seating area and enjoy its free Wi-Fi.
Owl & Lark is located at 41 South La Grange Road, La Grange, Ill. 60525.
It's nice to stray from the usual American-style coffee and try something new. This cafe is definitely the place to go if you're looking for a more European vibe.
Toni Patisserie & Cafe is located at 65 E Washington St., Chicago, Ill. 60602.
Steam Coffee is another non-chain coffee house in Oak Brook. It has a nice seating area which makes it perfect for those who want to grab a coffee and lounge with some friends. I would give this cafe a shot.
Steam Coffee is located at 2050 York Rd., Oak Brook, Ill. 60523.
No matter where you choose to go, spice up your day with a little coffee to keep you going through this harsh season. It won't hurt to try something new, especially in this time of year.
Leave a Comment
About the Contributor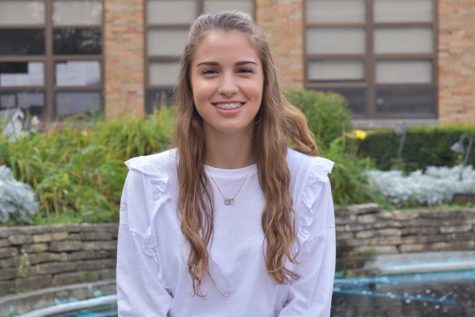 Samia Douedari, Section Editor
Samia Douedari is a senior who enjoys to write whether it's for a class or for fun. Along with being a part of the cross country and track team at Hinsdale...