Spring sports come into play
When the spring weather comes to Hinsdale, so does a new set of sports. These sports include girl's and boy's lacrosse, girl's and boy's water polo, boys tennis, boy's gymnastics, boys baseball, girls softball, girl's badminton, girls soccer and boy's and girl's track and field.
Between offseason workouts and tryouts, athletes across all sports are enthusiastic for their seasons to actually begin.
"We have been practicing for track since January because that was our preseason," said Elle Witz, sophomore track and field member. "I am a hurdler, and I am so excited for our outdoor meets; it's so fun to run outside and cheer on your teammates at a big outdoor track meet."
Like many sports, including track and field, the athletes are required to come to preseason practices, which means they have to go to school to lift weights or do set workouts with the coaches before their actual season starts.
"Currently we are in the middle of soccer tryouts which take place before and after school," said Sophie Simmons, junior and soccer player. "I'm so glad we have warm weather for tryouts because last year it snowed during them which made it really hard to show off our skills."
Several of the spring sports, including soccer, play outside. Since it is not even spring yet, the weather can be a bit unpredictable. However, the indoor sports can get comfortable right away.
"I'm so excited for the gymnastics season," said Nicky Armonda, junior and gymnast. "My favorite part about gymnastics is learning new tricks and getting to try a variety of different events. My favorite is floor because I love to tumble."
The boys gymnastics team started off their season on Friday, Feb. 22 with the annual Red vs. White match, which is a mock meet where the boys compete against each other.
Additionally, now that the boys swim and dive team's season is over, some team members look to join the water polo team.
"Water polo season is hype," said Colin Pope, sophomore and water polo player. "Our biggest match is against Lyons Township High School; the stands are packed. We are hoping to beat them this year."
With this long list of spring sports, there will never be a dull moment at the school. One of the first sports games Red Devil Nation can attend is a boys tennis match at Naperville Central High School on Saturday, March 3. For more, see here.
Leave a Comment
About the Writer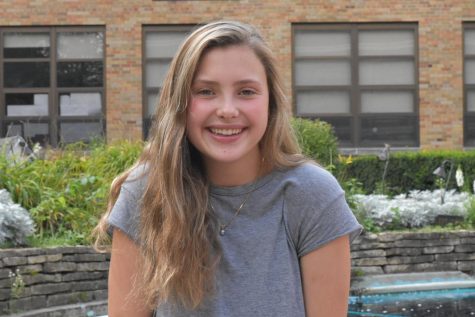 Leah Stevens, Section Editor
Leah Stevens is a senior who is constantly seen with a smile on her face and she loves to make people laugh. She lives by the motto "YOLO", and if you...