Boys tennis looks to continue tradition of excellence
After a third place finish at the 2017 State Finals and a legacy of 26 State titles, the boys tennis team looks to continue their tradition of excellence with another strong season, working toward the ultimate goal of winning the 2018 State Championship.
Top returning players include doubles pair Trevor Hamilton and Andrew Buehlos, seniors, who finished second at State last year; singles player and team captain Zack Elliott, senior, who recently committed to play Division I tennis at Lehigh next year and has qualified for the State tournament two years consecutively; and doubles pair Joseph Cunningham and Joseph Daw, juniors, who also qualified for the State tournament last year. Each player hopes to finish strong this season.
"We're super excited about the season this year because we feel that this team is one of the deepest teams we've had in years," Elliott said. "We have a good mixture of experienced players that have played at State and young players that are hungry to make an impact on the team."
In this year's quest to return to the top of the state after a second place finish in 2016 and a third place finish in 2017, the team will have to fend off defending State Champion Naperville Central, who will return with a strong core from last year's team. The Red Devils will also look to beat New Trier, who finished second last year, and Stevenson, who finished seventh.
According to Co-Captain Elliot, the team is considered one of the favorites to win State this year. In addition to having many returning players, two highly-touted freshmen are joining the team this year: Daniel Schemlka, who is rated as a five-star recruit and 25th in the country according to tennisrecruiting.net, and Ansh Shah, who is also considered a five-star recruit and ranked 63rd in the country by the same website.
The team has its first meet on Thursday, March 15, where the boys will compete in the DecoTurf High School National Championship in Chattanooga, Tenn.
"I'm excited for this meet because it's a great test right away and we will be able to see where our strengths and weaknesses are," said Hamilton, who is also a team captain. "We will play great competition, and it is also a great way to gain team chemistry because we are all together away from home."
Leave a Comment
About the Contributor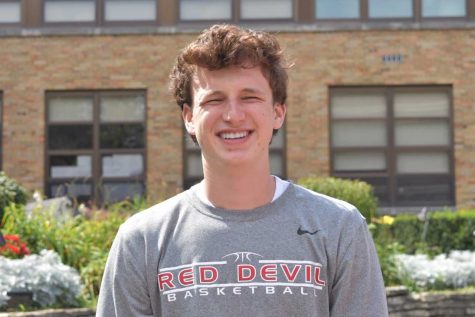 Everett Eck, Section Editor
Everett Eck is a senior who loves the sport of basketball. If he is not playing it, he is probably watching it. When he isn't playing basketball,...