We scream for rolled ice cream
Recently opened in August, At Munchies in Naperville offers a newly popular dessert, rolled ice cream. Rolled ice cream is milk that's poured on an iced grill, mixed with fruit or different ingredients, and scraped into small spirals. This style of ice cream has quickly become a new favorite amongst the student body.
I walked in around 2 p.m. on a Saturday and saw that there was a long line, but the wait is definitely worth it. The environment is lively and filled with many energetic people, watching their personalized ice cream order getting rolled along the ice pan.
My friend ordered a chocolate ice cream drizzled with chocolate syrup and coconut flakes and chose a chocolate-covered pretzel and a Pirouette as her toppings. She said it tasted much smoother and had more flavor than regular ice cream. She would definitely recommend this to a friend and even order it again for herself.
"It was very good. Although, the line was really long. I would rather get regular ice cream. The whole concept of rolled ice cream is a little over-hyped, but it's really good," said Gillian Filer, junior.
Not only does At Munchies offer ice cream, but also frozen yogurt, smoothies, iced tea, and bubble tea. My friend ordered a raspberry vanilla rolled ice cream with Pocky sticks and a matcha iced bubble tea. She was a little hesitant about the bubble tea, but she ended up loving it.
"The ice cream was made in front of me, and it was probably the freshest ice cream I've ever had. It was super smooth and cold, and the tea was great. I also got one of those punch cards where you get the 10th one free, and it's totally worth going back for," said Lexi Sandoval, senior.
Not only does At Munchies serve different kinds of ice cream and drinks, but also a wide variety of flavors. Many usually order a fruity flavor, but they have a wide variety of chocolate flavors as well.
"I ordered Oreo rolled ice cream, and I would love to get this again," said Kareem Kachlan, freshman.
Usually, students love going to Cone Gourmet Ice Cream, which is another store that serves rolled ice cream. Being that Cone is all the way in Chicago, At Munchies is definitely convenient for its location. Therefore, I definitely recommend At Munchies for a gourmet dessert after a stroll around downtown Naperville.
At Munchies is located at 22 E. Chicago Ave., Naperville, Ill. 60540
Leave a Comment
About the Contributor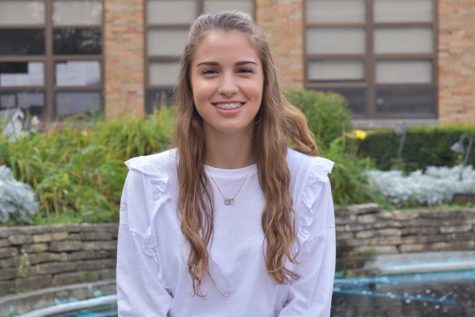 Samia Douedari, Section Editor
Samia Douedari is a senior who enjoys to write whether it's for a class or for fun. Along with being a part of the cross country and track team at Hinsdale...