Hanging at The Hampton Social
Located in the heart of the Burr Ridge Village Center, The Hampton Social in Burr Ridge is the second location to open since August 2015. Many students visit the location in River North, but now that the second location is minutes away, the craze for this restaurant is only growing.
It's no wonder this restaurant won the hearts of many students. The atmosphere of The Hampton Social evokes an east coast vibe along with live music. Around the live performer, there's a hangout area where people can swing around hammocks or even take pictures in front of the famous "Rosé all day" neon sign.
I visited The Hampton Social around 2 p.m. on a Saturday, and it was filled. Luckily, we made a reservation, so there was no wait. I noticed everyone was having a good time while bumping to the live music, and the restaurant was much more spacious than I expected.
Besides the unique ambiance and bustling atmosphere, the food was delicious, as well. I was told their "Chicken & Doughnuts" menu item is famous, so I had it give it a try. This included crispy chicken and warm homemade doughnuts with rosé glaze, featuring a side of honey-lime butter and maple syrup. It was tasty and definitely not something you find on every brunch menu. It was an interesting combination, but I ended up liking it, so I would definitely recommend this. However, I felt like I ordered from the kids' menu, so I would recommend ordering something else if you have a bigger stomach or crave more quality food.
My friend ordered the "Hampton Caesar" salad, which included romaine and baby kale, parmesan cheese, croutons, and classic caesar. She said it was tasty, and the portion was generous. For a simple, healthy option, she would recommend this salad.
"The food is really good, and it's a super fun hangout. All around, good vibes," said Sophie Biancalana, freshman.
Students tend to love The Hampton Social in Burr Ridge because of the lively atmosphere and tasty food, minutes away from home. However, many students still favor the location in River North.
"[The Hampton Social in Burr Ridge is] artsy and has a really cool theme, but [I like] the one in River North," said Alaina Hamood, sophomore.
Despite differing opinions, both locations made it to the top of students' lists of unique, fun restaurants. I would definitely recommend The Hampton Social for a nice hangout spot with friends or a date, especially with the live music and lounge area. However, due to its popularity, I recommend making a reservation.
The Hampton Social is located at 705 Village Center Dr., Burr Ridge, Ill. 60527.
Leave a Comment
About the Contributor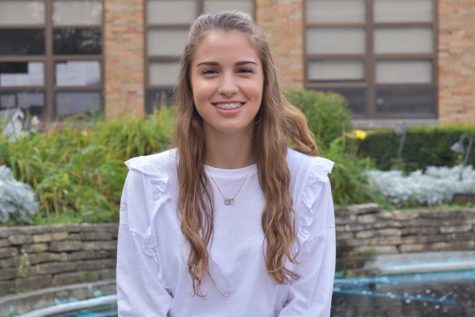 Samia Douedari, Section Editor
Samia Douedari is a senior who enjoys to write whether it's for a class or for fun. Along with being a part of the cross country and track team at Hinsdale...