Battle of the Grilled Cheese: Everdine's vs. Cheesie's
After a day of shopping or touring, Everdine's Grilled Cheese Co. situates itself in the heart of downtown Naperville for a quick, cheesy meal. As reviewed before, Cheesie's in downtown LaGrange may appear as just another grilled cheese restaurant, but they do have their differences. You can check out the Cheesie's review here.
First, Everdine's was a lot more crowded than Cheesie's. When I walked in on a Sunday afternoon, it was loud and lively, which was the opposite of Cheesie's on a Friday. However, the space was much smaller than Cheesie's. In comparison, Cheesie's had many more tables and entertainment, such as TV's in every corner and chalk to write on the tables.
Despite the difference in atmosphere, Everdine's had a similar menu to Cheesie's. You walk in and order your sandwich, then you sit down to wait for your order. Both Everdine's and Cheesie's menus offer complex grilled cheese sandwiches, but I decided to go with the classic plain cheddar grilled cheese sandwich.
The sandwich was crispy on the outside and soft in the inside. The toast was coated in butter, making it crunch in every bite. Also, the cheddar cheese melted right in my mouth and wasn't too stringy. Overall, the sandwich was delicious and had the perfect balance of crisp and softness.
Similar to Everdine's, the grilled cheese sandwich I tried from Cheesie's was also crispy, but it included more cheese, and the cheese was stringier. Also, Cheesie's gave me a side of tomato sauce to dip my sandwich in since tomato soup and grilled cheese is the ultimate combination.
"Cheesie's is by far the best place to go to get a grilled cheese sandwich. The service is great, and there are so many options to choose from on the menu," said Sara Katsis, senior.
Personally, if I had to decide between Everdine's or Cheesie's for a grilled cheese sandwich, I would choose Cheesie's because the atmosphere was more relaxing, the staff was more welcoming, and its sandwiches were more satisfying in my opinion.
"I've been to Everdine's and it was good, but the Cheesie's mac and cheese sandwich beats all," said Timothy Song, freshman.
Overall, I enjoyed both restaurants, but Cheesie's takes the win for me. I recommend you try both, for both are superb places for a delicious grilled cheese sandwich. After all, who doesn't enjoy taking a trip down memory lane and enjoying their favorite childhood meal?
Everdine's is located at 24 West Jefferson Ave, Naperville, Ill. 60540
Cheesie's is located at 46 South La Grange Road, La Grange, Ill. 60525
Leave a Comment
About the Contributor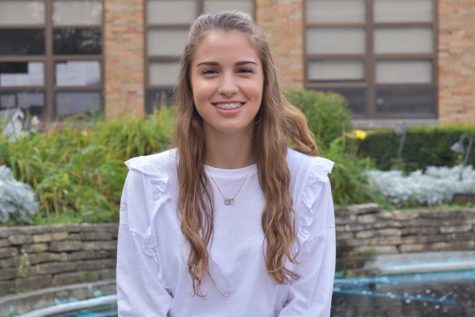 Samia Douedari, Section Editor
Samia Douedari is a senior who enjoys to write whether it's for a class or for fun. Along with being a part of the cross country and track team at Hinsdale...