Grand opening: Forbidden Noodles
Recently opened on July 10, Forbidden Noodles has quickly become a popular Asian restaurant that incorporates authentic flavors from China, Japan, and Korea, while giving their food a modern twist.
What separates Forbidden Noodles from the average Asian restaurant is the simplicity and quality of their ingredients. It can be difficult finding places that make everything from scratch, but Forbidden Noodles does- from the noodles to even the sauces- all at a fast food price.
"You can never go wrong with any of the items on the menu," said Timea Both, senior. "I love that everything has just the right balance of both traditional and modern flavors."
The versatile menu items are ideal for those who have specific dietary restrictions. Any noodle can be replaced with rice or rice noodles, and you can even choose to make many of the menu items gluten free. A popular vegetarian option is the Veggie Stir Fry Ramen which includes tofu, broccoli, baby bok choy, and snap peas served with stir fry ramen.
Peter White, the creator of Forbidden Noodles, lived in Beijing, China, for five years.
"We're cognizant of the health trends, and dietary restrictions," White said. "People want to know their food source, which is why we use cleaner ingredients. The pork, for example, is a very specific breed of pig, and not a typical one."
I walked in on Thursday around evening time and noticed the modern and clean atmosphere of the restaurant that was not too crowded. Friendly employees greeted me and started off by stating that none of their food items contain peanuts, to be safe, and also asked if I had any dietary restrictions.
I ordered the sweet and sour chicken with stir fry ramen and the chicken and cheese egg roll. An employee brought over their phenomenal gluten-free sweet and sour sauce, made with only three main ingredients: vinegar, sugar, and tapioca starch.
"I have a passion for ramen noodles, and before they opened I'd go to Elmhurst, and they only had simple options," said Marni Clauss, an employee who has worked at Forbidden Noodles since the beginning of June. "I waited forever for this place to open up and applied right away."
Along with being inclusive in regards to their dietary options, Forbidden Noodles is also known to be kid-friendly, which makes their environment ideal for families.
"Many people complain that other places don't have menu items kids enjoy, and they appreciate we have them," Clauss said.
Besides the food, there is also entertainment for those who are into the popular game, Fortnite, which is usually streaming on the TV. Other games will also occasionally stream.
Overall, the uniqueness of the food along with its incredible taste makes this restaurant worth trying out and is a safe bet for those who tend to feel uneasy on trying new restaurants.
"We're just trying to make some good food that's not too expensive, that's our main focus despite the restaurant industry's pull," White said.
Forbidden Noodles is located at 50 S. La Grange Rd Ste A in La Grange, Ill. 60525. For more information, you can call at 708-582-6425 or email [email protected]
Leave a Comment
About the Contributor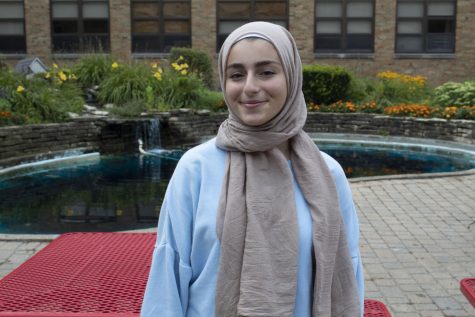 Lana Jawich, Section Editor
Lana Jawich is a senior writer for Devils' Advocate who enjoys painting and playing soccer. When she's not annoying her siblings or spacing out in physics,...