The Halal Guys come to Hinsdale
The Halal Guys just recently opened a new restaurant on Monday, Feb. 4, in Countryside, Ill. that's less than a ten-minute drive from Central and neighboring Andy's Frozen Custard, a popular student destination.
The Halal Guys began in 1990 as a New York City hot dog cart, and soon realized a growing demand from Muslim cab drivers looking for a fast food meal. Fast forward 29 years, The Halal Guys has become a world-renowned international restaurant chain, being the second most reviewed restaurant in New York City as of 2018, and earning a rating of four and a half stars on Yelp.
"I tried this restaurant when I went to New York last winter break because of all the recommendations I was getting to try it, and I wasn't disappointed," said Kelly Ma, junior. "I'm looking forward to being able to now go to the new location."
American Halal food features a melting pot of Middle Eastern and Mediterranean flavors. Much like Chipotle, you are able to choose between a gyro-like sandwich or a platter which is each served with your choice of toppings, and additionally their famous white sauce and hot sauce. For sides, they offer hummus, Baba Ganouj, falafel, as well as fries for those who want to play their meal a bit safe.
"I've been looking for different restaurants to try because Chipotle is usually my go to," said Maia Halle, junior. "I think Halal Guys is a great and different option."
The restaurant has both a drive-through and dine-in option, and the entire ordering process is easy and quick. The ordering method is similar to Chipotle's, where the customer moves down a bar of toppings.
I ordered the combo, which includes chicken and gyro, rice, lettuce, tomatoes, hot sauce, and of course their white sauce, a secret mayonnaise mixture. The hot sauce was much spicier then I expected, so I made sure to be careful with it. The high quality of their ingredients was noticeably superior to other similar fast food restaurants.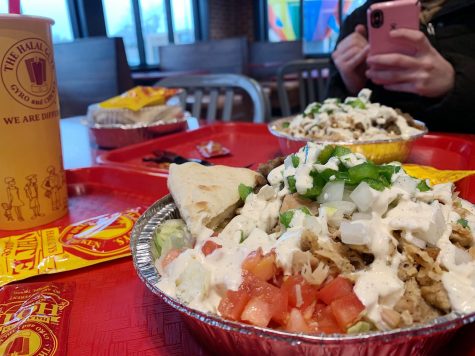 "We call our white sauce crack sauce because people go crazy with it," said Savanna Martinez, employee.
In 2014, the company, founded by Mohamed Abouelenein, Ahmed Elsaka and Abdelbaset Elsayed, signed a deal with the restaurant franchise consulting firm that took Five Guys and made it into the successful fast food chain it is today. In an interview done with The New York Times in 2014, the company mentions that the five-year plan is for 100 locations, as well as a presence in Europe. The Halal Guys now have more than 200 restaurants in development.
If you're interested in trying The Halal Guys, the restaurant is located at 5621 South La Grange Road, Countryside, Ill. and for more information, you can call them at (708) 639-4184. If you're interested in applying for a job there, check out this site.
Leave a Comment
About the Writer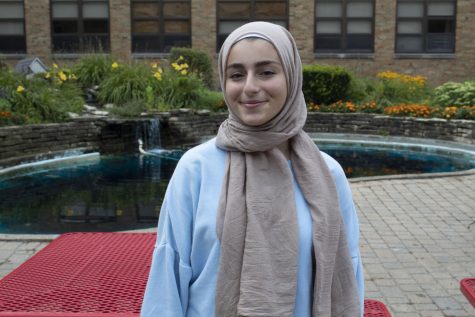 Lana Jawich, Section Editor
Lana Jawich is a senior writer for Devils' Advocate who enjoys painting and playing soccer. When she's not annoying her siblings or spacing out in physics,...