New ranking sparks age-old question about basketball allstars
Who is the greatest basketball player of all time? A debate that has been going on for years. Some names are frequent fliers like Kareem Abdul-Jabbar, Michael Jordan, Wilt Chamberlain, LeBron James, the list can go on and on. However, it is undisputed that Michael Jordan and LeBron James are on the top of such an illustrious list. The debate about who is the greatest of all time between the two was sparked again after LeBron James passed Michael Jordan for fourth place on the all-time scoring list at a March 6 game.
In a survey of 45 Central students, 93.3 percent believe that Michael Jordan is the better player while 6.7 percent believe it is LeBron James.
"[Michael Jordan] is a legend, and had a skill set like no other," said a participant of the survey. "There will always be better and better players in the future, but for his time on the court, he was something unheard of, and was absolutely extraordinary."
Prior to the game against the Denver Nuggets, LeBron James needed only 12 more points to move past Jordan. Michael Jordan has 32,292 career points. LeBron James ended the game with a 31 point performance and 32,311 career points.
"Michael Jordan was not only the leading man on the Bulls, but he was also the heart of both the team and basketball as a whole. He arguably was the leading man for Chicago overall at the time, and is still known around the world as the most well-known basketball figure," said Luca Ripani, senior. "Not to mention, Michael Jordan has six rings. LeBron James has three. Plus, we've also seen that despite his stardom, LeBron James simply can't carry a team like the Lakers as Michael Jordan could with the Bulls. I think it's clear that Michael Jordan is the [greatest of all time]."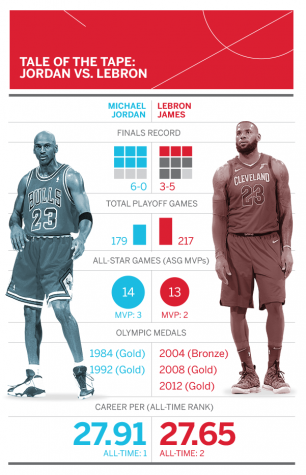 Statistically, both are very close to one another. Michael Jordan has a higher all-time career scoring average with 30.1 points per game in comparison to LeBron James's 27.1, which puts him at fifth on the all-time list. LeBron James has 7.4 career average rebounds compared to Michael Jordan's 6.2. LeBron James also has 7.2 career average assists compared to Micahel Jordan's 5.3. LeBron James also passed Andre Miller for tenth in all-time assists earlier this season. This makes LeBron James the only player in NBA history to be in the top 10 for both all-time assists and points.
"[Lebron James is the greatest of all time] because Jordan's competition [at the time] was so much less competitive," said another participant of the survey. "Every single player in the league today could be compared to Michael Jordan in his prime in terms of athleticism, and [even] then Lebron James still stands out with that much better competition."
LeBron James is 34 years old and is in his 16th NBA season. Michael Jordan ended his career at 40 years old and 15 NBA seasons. Michael Jordan led the Chicago Bulls to six NBA finals and won all six of them. LeBron James has only won three championships, but he has gone to the NBA Finals seven times. Lebron James has been Most Valuable Player four-times, three NBA Finals MVP, and two Olympic gold medals. He is also the all-time NBA playoffs scoring leader. Jordan has been MVP five-times, six-time NBA Finals MVP, and 10-time NBA scoring leader.
The Lakers will next play the Eastern Conference-leading Milwaukee Bucks on March 19 at 5:00 p.m.
Leave a Comment
About the Contributor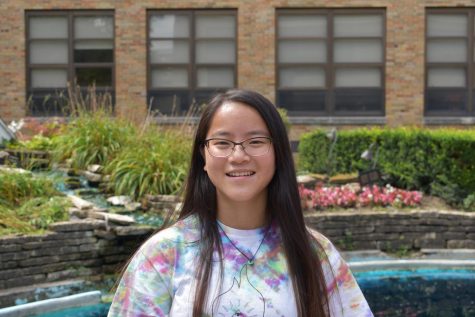 Lia Reichmann, Editor-in-Chief
Lia Reichmann, senior, is well versed in anything to do with Friends, Harry Potter, and sports. She likes to go backpacking and taking photos (follow @liareichmann_photography...