New Korean restaurant opens in Oak Brook
Over the past few years, Oakbrook Terrace has become a very favored area to spend time in, with the Oak Brook mall shops and the popular restaurants that surround them. Now, a new restaurant, SGD Dobu So Gong Dong (SGD), has opened to become one of the only Korean restaurants in this area.
SGD opened on Wednesday, April 10, and has since attracted much attention. The restaurant serves a simple menu but its mission is to serve healthy, authentic, plentiful and well-balanced food. Some of the restaurant's most popular dishes are its bento boxes and Korean barbecue.
"We opened in this area because although there are many restaurants, there are no Korean restaurants in this area," said Sam Oh, vice president of SGD. "This means that opening one here was a risk but one that we were willing to take. We will see how it does in the near future."
The restaurant company has many locations both in the Chicago area and in other states. However, this restaurant was designed on an entirely different concept to help minimize costs for customers.
As I walked in, the modern and clean look of the restaurant instantly caught my attention. The menu was projected on multiple screens and each item was accompanied by a picture, so customers could see exactly what the dish looked like.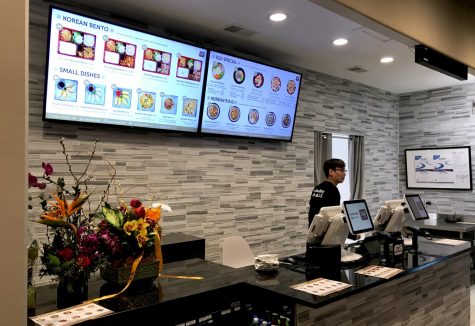 "Our new restaurant is definitely the most modern one we have designed so far," Oh said. "We tried to create a faster and cheaper dining experience, so customers don't have to spend extra time and money on tips like in our other restaurants."
I ordered the Beef Bulgogi bento box which came with the beef, steamed rice, Japchae noodles, an Asian salad, and pork dumplings. I exchanged the pork dumplings for vegetable spring rolls which were excellent in their crispness and flavor. The Japchae noodles were a nice balance of sweet and savory, and the salad was extremely refreshing and flavorful.
The beef in the bento box was cooked perfectly and was slightly sweet which I was surprised by, yet it paired perfectly with the lightly salted steamed rice. My friend ordered a similar bento box, but with chicken.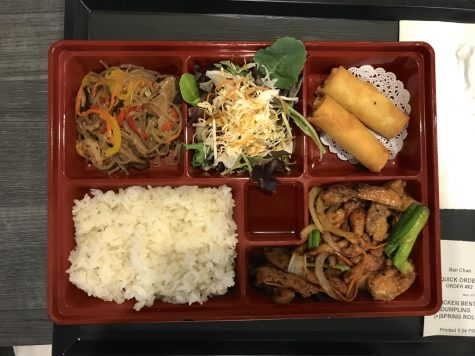 "I ordered the chicken bento box and it was really good," said Harini Loganathan, senior. "I like that they have a lot of options for everyone and they give you a lot of different types of food. It was my first time trying Korean food and it was a good experience."
The bento box is the perfect option for customers who want to try a little bit of everything, however, there are other options for customers who want only Korean Barbeque, Bibimbap, soup, or Ramen.
The service at the restaurant was fast and our food was brought directly to our table. The servers were very helpful with any questions I had and very accommodating to my needs.
My favorite part of this restaurant was definitely the customized spice that could be added to any dish. There is a range of spiciness indicated on the menu and customers can choose what level they want. This was nice for me as I usually like my dishes spicier than most.
Many students are excited to have a Korean restaurant closer in proximity as it is a popular cuisine among many Central students.
"I am very happy they opened a restaurant so close to my house," said Alyah Afzal, senior. "This was probably the best Korean place I have been to so far and I will definitely be visiting it frequently."
SGD Dubu So Gong Dong Korean Bento & BBQ is located at 18W066 22nd St. in Oakbrook Terrace.
Leave a Comment
About the Contributor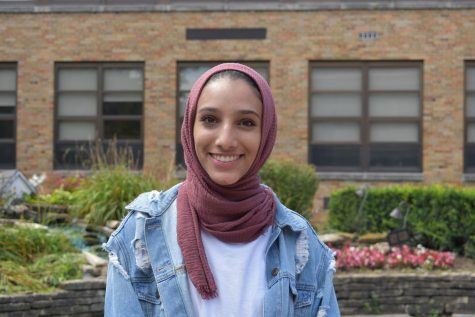 Hajera Naveed, Section Editor
Hajera Naveed is a Senior Writer and Section Editor for Devils' Advocate. Her hobbies include writing, volunteering, painting, and running. When she isn't...