Girls Track and Field qualify for sectionals
Hinsdale Central's track and field athletes performed personal bests and met state qualifying marks at the West Suburban Conference Championship meet on Friday, May 3, at Proviso West High School.
Conditions were not ideal for the meet with the 52-degree temperature and rainfall slowing athletes' times down. But the weather didn't stop the Red Devils from performing well against well-acclaimed teams in their own conference, including Lyons Township, Glenbard West, and a rising Oak Park River Forest program.
¨Since the weather for the meet was not very ideal on Friday, my coach told our whole team not to be too concerned about our times since they wouldn't be as fast as in good temperatures," said Mckenna Revord, junior. "[My coach] told us he wanted us to go out and put our best effort in and that's all he said he could ask of us racing that night."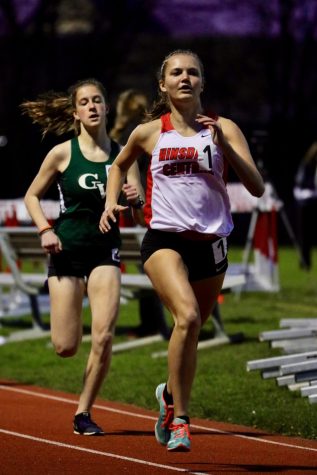 Dior Nicholson, junior, was a standout for the Red Devils in the field events, winning both the shot put in 39-3 ¾ and the one kilogram discus throw in 125-10.
Nicholson has won the conference title in the shot put three times since her freshman year, and threw her personal best shot put round at the Downers Grove South Mustang Invitational of 41' 5.5 and in the discus with a 133'5.
The varsity 4×800 team which consisted of Bella Pisani, senior, Gillian Filer senior, Kayla Byrne senior, and Emma Watcke junior met the state standard where they came in third with a time of 9:31.79.
The 3200 meter run was the first of standout running performances, where Mckenna Revord, junior, led the pack of former all-state runners right from the get-go. She held off Glenbard West senior Katie Hohe throughout the entire race and crossed the line with a state qualifying time of 10:59:59, where she finished strong in front of Hohe by three seconds.
"I executed my race plan better than I thought I would," Revord said. "It was challenging to lead the whole time because I had to set the pace for the whole race and push myself alone but it was worth it because it turned out well for me in the end."
Revord took home the title marking sub 11 minutes in the 3200, making the performance the first time a Red Devil has won the event since 2014.
Although, it was not Revord's fastest recorded 3200 time, where she ran a 10:47.67 at the Distance Night Invitational at Palatine High School.
"What went well is that even though I took the race out too fast, in the beginning, I was still able to finish the race strong," Revord said. "I will keep that in mind [at sectionals] because I know the race will go out even faster and know that I can still compete while tired."
Melanie Chafin, senior, also competed in the event and ran a season-best time of 12:02.97.
In the freshman and sophomore 800 meter run Sophomore Diana Denemark finished strong against the competition and won the race with a time of 2:28.24. She also performed well in the freshman and sophomore 400 meter, placing fifth overall with a time of 1:04.36.
In the varsity 800 meter race Pisani finished fourth with a time of 2:19.11, while Taylor Wagner, junior, finished in sixth with a time of 2:20.74, a personal record. In the varsity 1600, Watcke finished in second place behind all-state runner Katelynne Hart with a time of 5:06.43 Byrne crossed the line in 5:13.21 which was a season-best.
Senior Ellie Geier had an impressive run in the sprinting events, where she showcased a third place finish in the 100 meter dash 12.86 with a .4 second personal record, a runner up in the 300m hurdles with a 46.94.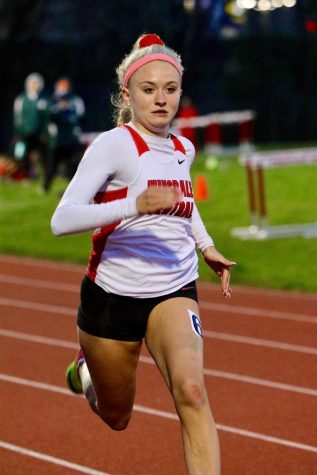 "I definitely set the bar the highest for myself in the hurdles. I just starting running them this season but I've been pretty successful which has put more pressure on me by myself and my coaches," Geier said. "Going into Friday, my main goal was to lower my time closer to state qualifying and clean up some hurdles. I dropped a lot of time in that race too and I was pretty happy with the result. "
She also put up a strong leg in the 4×400 meter relay, Geier has been involved in the 4×400 meter relay for the past three years at Central, where each team qualified to state every year.
"Getting to state again would be awesome so every race is just about dropping time and getting a good position in the race," Geier said. "When we put our best girls together, we will have a really good 4×400."
Central will compete at the IHSA 3A sectionals at Naperville North High School on Thurs., May 9, starting at 4:30 p.m. The sectional hosts some of the top-ranked teams in the state including Glenbard West, Wheaton Warrenville South, Downers Grove North, and Naperville North, making it a very competitive meet.
"I am very excited to see what the whole team will be able to do at the sectional meet because everyone has been so committed this year and everyone is at their best," Revord said.
Leave a Comment
About the Contributors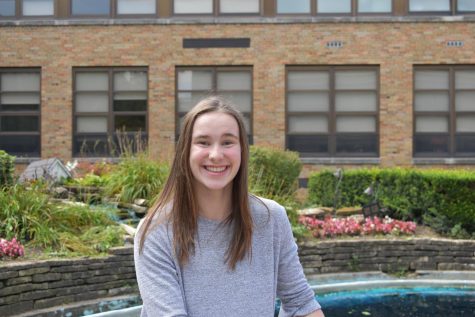 Rachel Wagner, Writer
Rachel Wagner is a junior writer for the Devil's Advocate. When she's not covering stories she can be seen at home drawing, writing, rewatching episodes...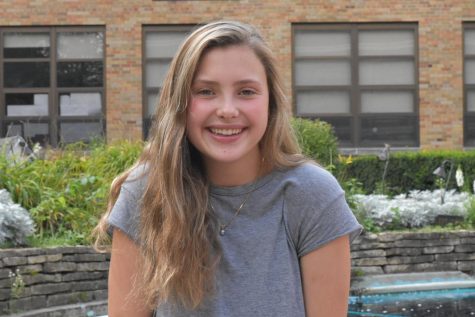 Leah Stevens, Section Editor
Leah Stevens is a senior who is constantly seen with a smile on her face and she loves to make people laugh. She lives by the motto "YOLO", and if you...