Football season starts with a win against Naperville Central
On Friday, Aug. 30 the football team faced Naperville Central on Dickinson field. Kicking off the season, the Red Devils defeated the Redhawks 14-6.
"The defense played great as an entire unit. Everyone who was out there made big contributions to holding an explosive offense to only six points. While a lot of players made big plays, Ryan Loughlin and Luke Pyle consistently made plays when it mattered," said Mr. Brian Griffin, varsity football coach. "Offensively, we made big plays when we needed them most."
Micheal Brescia, junior quarterback, made a 61-yard run in the first quarter, which put the Devils in the lead by 7-3. In the fourth quarter, Brescia brought the team up by eight points through a pass to Braden Conteras, senior.
"The win was a good boost of confidence and a great way to see where we are at as a team. Now it's all about improving from here and growing from this win," Brescia said.
The band, varsity pommers, color guard and cheerleaders all performed on Dickinson field during halftime. Four Drum Majors, Mia Gaddis, senior, Lorenzo Jennings, senior, Amer Goel, junior, and Sydney Wojczynski, senior, led the marching band.
"We are all really excited for the first game. The band has been practicing for a long time, and we love all the spirit everyone has out here," Gaddis said.
The football team's next game is against the Morton Mustangs from Cicero and Berwyn. It is a home game on Dickinson field at 7:30 p.m. on Friday, Sept. 14.
Leave a Comment
About the Writer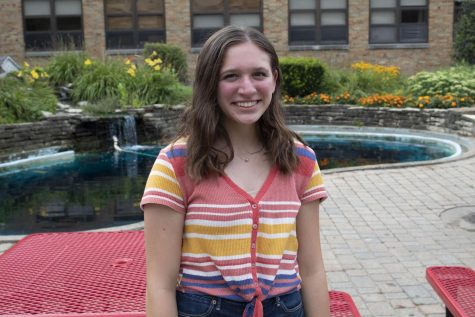 Natalia Berti, Section Editor
Natalia Berti is a senior who, when not chilling at a picturesque coffee shop or practicing her badminton footwork, enjoys re-watching the Avengers movies...