Get the scoop on Jeni's Ice Cream
Loading ...

Located in the Oakbrook Mall, Jeni's Ice Cream had its grand opening on Aug. 14. This family-friendly ice cream shop brings a trendy and comforting vibe to the mall.

The smell of freshly baked butter crisp waffle cones fills the shop and draws many customers inside. In addition to this, the bright orange and blue color scheme and artistic pictures of ice cream and cows on the walls make the shop seem appealing to many customers. This has contributed to its overwhelming success within the past month.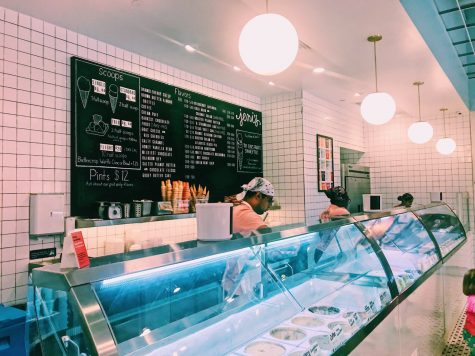 "Everything about Jeni's Ice Cream is superior to the rest of the basic ice cream brands," said Lauren Witt, junior. "The workers at the new Jeni's shop are so kind and offer you samples without making you feel bad for asking."
Jeni's Ice Cream shop offers a wide variety of flavors, with their most popular being brown butter almond brittle and bramble berry crisp, according to the shop manager. In addition to this, they offer vegan ice cream options made with coconut milk.
"We make our ice cream with natural ingredients using our grass-raised Ohio milk," said Jo Barchi, manager. "We only have about 200 to 300 cows that produce this wonderful milk that is very high in butterfat content."
The use of natural ingredients makes Jeni's Ice Cream creamier and more flavorful than normal ice cream. I ordered three ice cream flavors including milkiest chocolate, cream puff, and Texas sheet cake. The ice cream had a very rich and smooth chocolate flavor, leaving me more than satisfied with my purchase.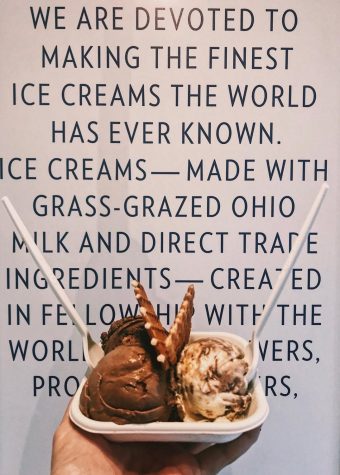 The Texas sheet cake was one of their dairy-free options, as it was made with coconut milk. Saying this, it was just as flavorful and creamy as the normal ice cream. The buttercrisp waffle cone placed on top was a nice balance to the ice cream because of its buttery and not overly sweet flavor. 
Jeni's Ice Cream offers a wide variety of flavors with nearly 26 options. 
"My favorite part about working here is seeing all of the happy customers after eating our ice cream," said Melanie Chafin, employee. "You can really tell how much our customers enjoy it, and it creates such a positive atmosphere in the shop."
The glowing atmosphere of the shop is filled with teenagers, young children, and even elderly citizens. People of all ages can enjoy sitting down for a scoop of ice cream in Jeni's due to its happy and family-friendly environment.
The high-quality ice cream matches its price, as the shop is a bit more expensive than a normal ice cream parlor. A single scoop will cost you $5.50, but in my opinion, it is well worth the money. 
Believe me when I say you won't be disappointed eating at Jeni's Ice Cream shop. Its delicious ice cream and positive atmosphere make it a great place to hang out for any event. Jeni's is located at 521 Oakbrook Center, Oak Brook, Ill.
Leave a Comment
About the Contributor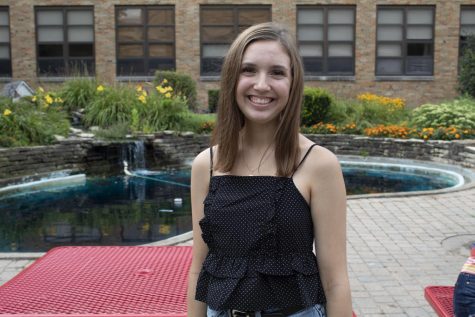 Meghan Malec, Section Editor
Meghan Malec is a senior who can be found hanging out with her friends and binge-watching Netflix shows in her free time. Her free time, however, is very...