New Mario Kart Tour allows students to game at school
On Friday, Sept. 25, Nintendo launched a mobile version of their popular "Mario Kart" franchise entitled "Mario Kart Tour" for iOS and Android devices.
Nintendo has been dabbling with branching their properties into the realm of mobile games, notably with releases like "Super Mario Run" in 2016 and "Animal Crossing: Pocket Camp" in 2017. The company has been able to find a good balance of making games that are free to play, with small transactions that are purely optional. Since Nintendo is a huge corporation, they don't rely on putting ads in their games to make revenue.
Bringing "Mario Kart" to smartphones was a very clever idea, as the series has found much success on handhelds in previous years. 2005's "Mario Kart DS" is the second-highest selling game in the series behind "Mario Kart Wii", and is highly acclaimed for how it allows players to race each other anytime at any location. Allowing people to do this with their smartphones is a brilliant way to keep the series relevant.
"I honestly like it," said Abby Rigazio, senior. "I enjoy that there is a mix of new stages and stages from console versions, as well as the addition of Pauline as a playable character. However, my problem lies with the sheer volume of in-game purchases as well as the presence of bots in-game. It really breaks immersion to keep seeing "Mark" over and over in a game that so many are playing."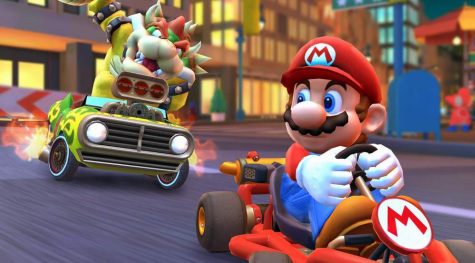 "Mario Kart Tour" does an adequate job of converting the core "Mario Kart" game-play that we all know and love to mobile devices.
While the controls take a little getting used to, Nintendo does a good job of working around the restrictions of a touchscreen. The option to automatically drift makes handling the vehicles easier, and items picked up from item boxes will automatically be used when picking up another one.
A few other tweaks have been made to the game in order to accommodate for the app. For example, races are now only two laps instead of three, which allows players to more easily start and stop playing the game at their own leisure. Nearly everything must be unlocked by completing races, meaning the selection of characters and courses is very limited when compared to previous games.
"It's so nice to be able to play my favorite game anywhere [at] anytime," said Charlotte French, freshman.
The game is currently a single-player only experience, having the player race against bots in order to earn more courses, racers, and cars. Multiplayer is slated to be released in a future update.
"Adding multiplayer would make the game more fun," said Reid Bergquist, sophomore.
Overall, "Mario Kart Tour" does a good job of adapting the series to smartphones. It's a shame that it currently can't be played in multiplayer, but the game will likely see an even larger boost in popularity once it is updated.
Leave a Comment
About the Contributor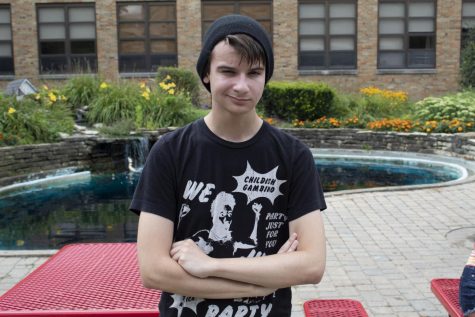 Jack Ging, Writer
Jack Ging is a senior who really enjoys writing and music. He has written hundreds of music reviews and has a YouTube channel with video essays about various...