Boys' golf team loses state championship streak
On Friday, Oct. 19 and Saturday, Oct. 20 the boys' varsity golf team finished in seventh place at state finals. During the two-day event, they played at The Den at Fox Creek Golf Course in Bloomington, Illinois. Each golfer played a total of two rounds (36 holes).
Lake Forest High School got first place at state finals with New Trier High School in second place and Glenbrook North High School in third place.
"The top three teams separated themselves on the first day from everybody else," said Mr. Serge Penksik, varsity golf coach and orchestra teacher. "It was a three-team race from that point on."
Golf is not only a physical but a mental game. Players steer clear of distractions in order to compete under pressure.
State boys golf update. Tommy Clark tees off on the first tee. Red Devil golfers are out and competing in Bloomington. Go Red Devils! pic.twitter.com/YMUhBjJ5KU

— HCHS Athletic Department (@RedDevilsAD) October 18, 2019
"I think the main thing is creating [a] different team atmosphere. They have all the talent that they need to be very successful. It's about being in the right mindset and the right zone to compete," Penksik said. "All those kids who are competing at that level are all good, they all can play, they all can shoot low scores, but the question is can they shoot them under pressure?"
The team prepared for state finals by having practice rounds at The Den at Fox Creek Golf Course and arriving a day early to get familiar with the course. They also went over different shots depending on the weather conditions.
"You go hole-by-hole, talk about strategies, and stay positive out there because things will happen, [and] just about everybody will encounter a challenge [on the course] over the two days," Penksik said. "At times it becomes a grind because you're battling a lot of weather as well out there playing in 45-degree weather."
Seniors Thomas Clark and Jack Bartuch brought success to the team at state finals, with Clark shooting 77 and Bartuch shooting 73.
"The seniors played really well, they delivered and showed composure that was worth celebrating. It was a good way for them to finish their high school golf careers," Penksik said.
To prepare for state, the lineups were set beforehand and the team practiced their consistency on a variety of golf courses.
"We practiced our warm-up routines and pre-shot routines heavily the week of state," Bartuch said. "We also prepared by playing at Chicago Highlands; this gave us the opportunity [to feel] what the wind would be like down in Bloomington at The Den [at Fox Creek Golf Course]."
Although the team lost their championship IHSA state title streak of seven at state finals this year, there is room for improvement next year.
"A thing to improve upon would be our approach to the round and our mental game," said John Cornell, junior. "Most of our starters were either juniors or sophomores, so we were very young and inexperienced. Next year, talent-wise, we'll be top two in the state, but if we want to win a championship, then we'll have to fix what's happening in our heads."
The team usually practices four times a week for about two hours after school. During practices, the team meets at golf ranges to play nine-hole practice rounds or work on putting drills.
"[Next year], we can work on working together more as a team and spending more time practicing so we can improve on our consistency," said Ben Rassmussen, junior.
You can visit the IHSA website for more information on individual scores and placing.
Leave a Comment
About the Contributor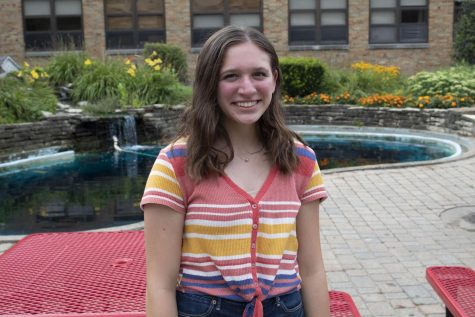 Natalia Berti, Section Editor
Natalia Berti is a senior who, when not chilling at a picturesque coffee shop or practicing her badminton footwork, enjoys re-watching the Avengers movies...