Students visit the largest Starbucks Reserve Roastery in Chicago
On Friday, Nov. 15, the Starbucks Reserve Roastery opened along the Magnificent Mile in Chicago. Students who visit their nearby Starbucks on a daily basis took a short trip to Chicago on Saturday, Nov. 16 to see what Starbucks had to offer.
The Chicago Starbucks Reserve Roastery holds the title as the largest Starbucks in the world, which was previously held by the Starbucks Reserve Roastery in Shanghai, China. It is approximately 35,000 square feet and has five floors with something unique to offer.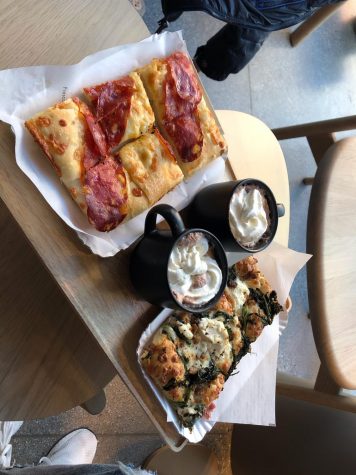 Because of its popularity, there is a line to wait before entering. While the wait may be subject to change, the line lasted about fifty minutes on Saturday, Nov. 16 at 12 p.m. Kajus Miliunas, junior, endured the wait by watching Netflix on his phone while wearing his heavy jacket.
"It was really cold outside so you have to dress pretty warm," Miliunas said.
When we first walked in, there was a strong aroma of roasted coffee beans like any typical Starbucks. However, the first floor features a custom roaster machine, giving the coffee an extra boost of flavor. In the gift shop, Starbucks showcases its specialty reserve coffee packages, stickers, sweatshirts, mugs and more that make for a perfect holiday gift.
Built in what was formerly Crate and Barrel, architecturally, the Starbucks Reserve Roastery was on par. It features a grand 56-foot centerpiece that spans upwards five floors that send up roasted coffee beans through five tubes that circulate towards the five floors The sculpture wraps around the spiral escalator that takes you directly to the second floor.
"It looked like any Starbucks Reserve at first until you get to the escalator then you see that it's five floors," said Philip Fan, senior.
Save your appetite and dine in on the second floor, which features food from an Italian bakery called Princi. The menu takes a twist on traditional Italian food, featuring items like handcrafted pastries, seasonal soups, Focaccia sandwiches and freshly baked pizza with unique ingredients. If eating a pizza baked in a Starbucks is not already mind-blowing enough, you can grab a scrumptious dessert on the third floor which features the experimental coffee bar that serves liquid nitrogen Italian gelato and innovative coffee craft with unique flavors.
When grabbing a bite to eat, I had the Pizza Al Taglio. The pizza is made with a Focaccia bread base flavored and a homemade pomodoro sauce, then topped with fresh ingredients like mozzarella di bufala, roasted eggplant and peppers. The pizza had a crispy texture that was the perfect size for a lunch or dinner meal. I ordered my meal with a side of hot chocolate that was rich and creamy and was topped with whipped cream.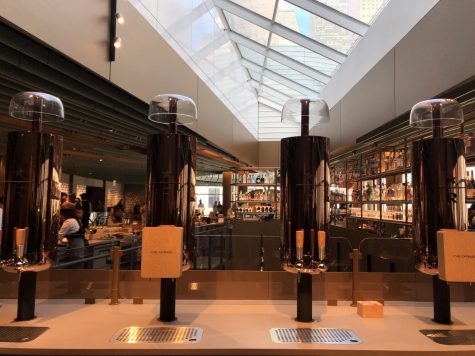 "I had never had anything like it [the pizza]," Fan said. It was really fluffy and about two inches thick."
On the fourth floor, you can find the barrel-aged coffee bar and ample seating and lounge space. In addition, the fifth floor is comprised of a rooftop where many can enjoy a sip of coffee with the Chicago skyline in the background. However, the rooftop is not open to the public yet.
Overall, I would recommend stopping by the Starbucks Reserve Roastery in Chicago. The experience and cuisine was definitely worth the wait. The service was much faster than expected, considering how many people were waiting for their food or drink.
Noah Epstein, junior, shares a similar sentiment to many students who are not into the Starbucks craze.
"I would not go there because I do not like coffee," Epstein said.
The opening hours are 7 a.m. to 11 p.m. on Monday through Thursday, 7 a.m. to 12 p.m. on Friday, and 8 a.m. to 12 a.m. on Saturday and Sunday. For more information, you can visit the Starbucks Reserve Roastery Website.
Leave a Comment