A guide to a delicious Thanksgiving feast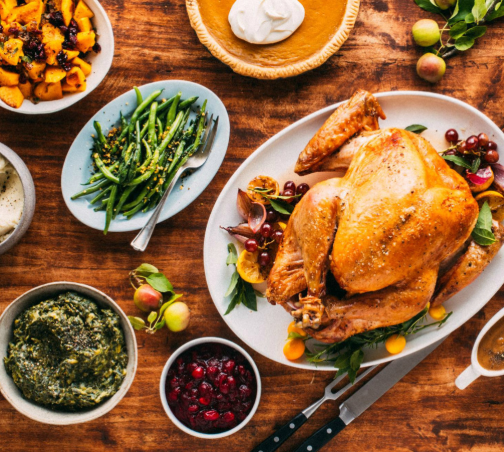 The leaves are falling, the temperatures are dropping, and the days are getting shorter. Thanksgiving is fast approaching, and before the Christmas craze engulfs the nation, we should savor the holiday that gives us the opportunity to see family, give thanks, and most importantly, stuff ourselves with the most hearty, delicious Thanksgiving foods.
Follow the recipes below to make the most out of your Thanksgiving meal. Experiment with these dishes, adding in some of your own special touches to fit your tastes. This is a perfect excuse to indulge, so take this opportunity to experiment with new dishes and try as many recipes as possible.
So, grab your best apron, tie your hair back, put on your chef's hat, and get cooking!
---
Pumpkin French Toast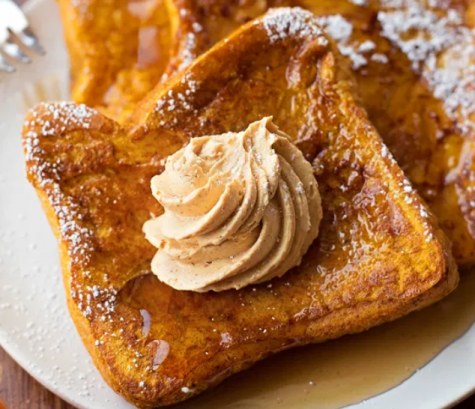 If you are feeling up for a festive breakfast, pull out your griddle, crack a couple of eggs, and whip up some pumpkin french toast adorned with homemade whipped pumpkin butter.
For the ingredients, check out this link.
Directions:
In a bowl, whisk the eggs, milk, pumpkin puree, vanilla, cinnamon, and pumpkin pie spice together.

On a skillet or griddle, melt a wad of butter over medium heat.

Dip both sides of each slice of bread into the pumpkin mix, then place on the skillet. Cook each side to a crispy golden-brown.

To make the pumpkin butter, place the softened butter in a bowl and beat it for 2 minutes or until it becomes fluffy. Add the pumpkin puree, maple syrup, vanilla, cinnamon, and pumpkin pie spice. Beat this for another minute or until it becomes fluffy.

Place in the refrigerator and let it cool. Apply a generous amount to the french toast, drizzle in maples syrup, and enjoy!
Even though you may not usually cook breakfast on Thanksgiving, pumpkin french toast provides a nice opportunity for you to cook off your day with a festive, sweet food choice to put you in the Thanksgiving spirit.
The most important component of the Thanksgiving menu is the main course. Turkey, mashed potatoes, gravy, green beans, dinner rolls, and other delicacies are passed around the table during the main course, so this is where it is essential to impress your guests with delicious recipes. Roasted brussels sprouts, mashed sweet potatoes, and stuffing are personal favorites of mine, and soon will be yours too—trust me.
---
Roasted Brussel Sprouts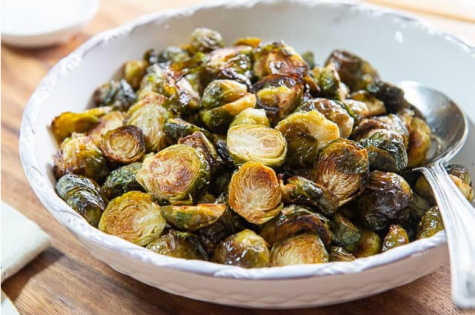 For the ingredient list, check out this link.
Directions:
Preheat oven to 400 degrees.

Trim and cut the brussels sprouts in half and place in a large bowl.

Add in the olive oil, salt, and pepper, and spread them on a large baking sheet, with the cut edges facing down.

Place in the oven for 25-30 minutes, or until they have caramelized and are brown on the edges and bottom.

Serve while warm, and enjoy!
Roasted brussels sprouts are an easy and delicious way to add some greens to your Thanksgiving menu. I recommend making a sizable portion of them—they will be eaten within the blink of an eye.
---
Mashed Sweet Potatoes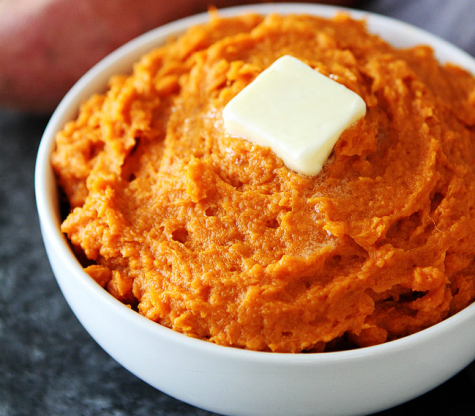 For the ingredients, check out this link.
Directions:
Fill a large pot with water and a sprinkle of salt and let it boil. Add the sliced sweet potatoes and reduce heat to medium. Let it cook, uncovered, for 15 minutes or until the sweet potatoes are soft.

Drain the potatoes in a colander.

Place the sweet potatoes in a large bowl and add milk, butter and salt. Mash the ingredients until they are smooth and fluffy. Add additional milk and butter to your tasting. Sprinkle in some pepper, serve warm, and enjoy!
Mashed sweet potatoes are a tasty, hearty, sweet twist on traditional mashed potatoes. I recommend placing a slab of butter and some spices on top for optimal taste.
---
Sausage and Herb Stuffing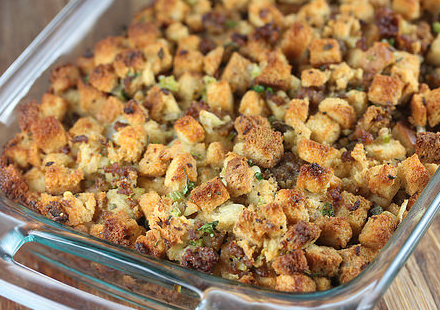 For the list of ingredients, check out the link.
Directions:
Preheat oven to 350 degrees. Place a piece of parchment paper over a large baking sheet.

Spread the pieces of bread on the baking sheet, and place in the oven for 7-10 minutes, or until crispy and golden-brown.

In a large pan, heat oil over medium flame. Place the sausages on the oil, and cook for 10 minutes, or until brown and crispy. Cut the sausage into smaller pieces while on the stove with a fork. Place the cooked sausage on the baking sheet with the bread.

In the same pan, melt butter and add onions, celery, garlic, parsley, sage, rosemary, salt, and pepper. Cook this for 10 minutes, or until the vegetables become soft. Add some wine and cook for about 4 more minutes.

Turn off the heat, and pour in the chicken broth. Add in the beaten egg and bread, and mix well until the liquid has been absorbed.

Pour the mixture into a 9×12 inch baking dish. Bake for 30 minutes or until the top is brown and hot in the middle. Serve, and enjoy!
Stuffing is always one of the most popular dishes at the Thanksgiving table, and this recipe will not disappoint. The sausage and herbs will add some nice spice. Make sure to drizzle with gravy for an unforgettably flavorful experience.
On to dessert! If you are in the mood for a sweet, fruity treat, there is no better dish than cranberry sauce.
---
Cranberry Sauce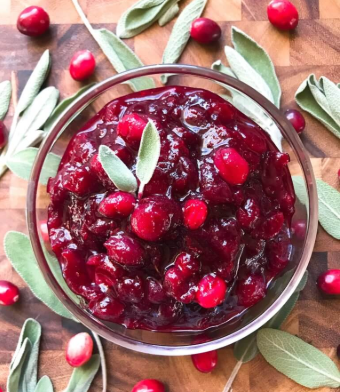 For the ingredient list, check out this link.
Directions:
Take ½ cup of cranberries and place them into a bowl. Take the remaining cranberries and place them in a saucepan.

In the saucepan, add the sugar, orange/lemon zest, and water, and let it simmer over low heat while occasionally stirring. Let it cook for about 10 minutes, or until the sugar dissolves and the cranberries are soft.

Increase the heat to medium, and cook until the cranberries burst, which should be about 12 minutes.

Reduce the heat to low, and add in the extra cranberries, sugar, and a sprinkle of salt and pepper.

Let cool to room temperature, serve, and enjoy!
Cranberry sauce is a staple of the Thanksgiving diet and is often enjoyed with the turkey—either placed on top of it or to the side. This sweet, fruity dish provides a nice juxtaposition to the meaty, juicy turkey.
Looking for something a bit spicier, but that still has just the right amount of sweetness? You have to try pumpkin twists, which are delicious pastry treats that will have you and your guests begging for more.
---
Pumpkin Twists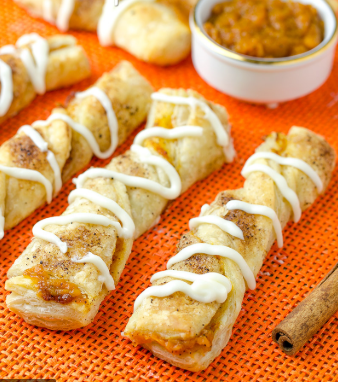 For the ingredients, check out this link.
Directions:
Preheat oven to 375 degrees and line baking sheet with parchment paper.

In a bowl, mix pumpkin puree, pumpkin pie spice, and cinnamon.

Unroll puff pastry sheets on a lightly floured flat surface. Shape into 8 rectangles.

Spread the pumpkin mix onto four of the rectangles. Take the remaining four triangles and place them on top of each of the rectangles with a pumpkin mix. Press the edges together.

Brush melted butter on top of the rectangles, and sprinkle with pumpkin pie spice.

Cut each rectangle into a few strips, and twist each strip two or three times.

Place the strips on the baking sheet, and place in the oven for 8-10 minutes or until golden brown.

To make the cream cheese glaze, mix cream cheese, powdered sugar, and vanilla extract in a bowl until smooth.

Drizzle the cream cheese glaze on each pumpkin twist, serve, and enjoy!
Pumpkin twists are a unique dessert that provides a spicy yet sweet option to your dessert menu. They can help add variety to the traditional repertoire of Thanksgiving dessert foods.
---
Pumpkin Bars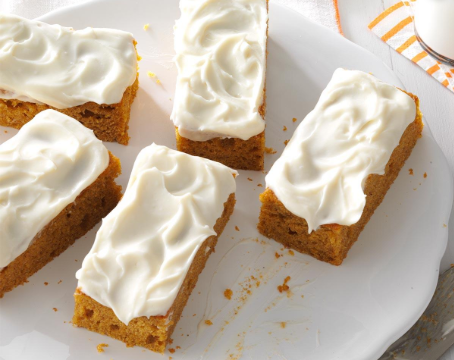 The traditional Thanksgiving dessert is pumpkin pie, but I recommend a twist on this dish: pumpkin bars. These soft, spongy, addictive slices of heaven are adorned with a delicious layer of cream cheese frosting, are sure to be a fan favorite.
For the ingredient list, check out this link.
Directions:
Preheat oven to 350 degrees.

In a bowl, mix eggs, oil, sugar, and pumpkin puree until fluffy. Add the flour, baking powder, cinnamon, and salt and stir until all is thoroughly mixed together.

Sprinkle flour on a large baking pan. Pour the pumpkin mix into the man and spread it out evenly. Bake for 25-30 minutes.

To make the frosting, whisk together the cream cheese, butter, and vanilla. Add in the powdered sugar in small increments. Mix until fluffy, then spread evenly along the top of the baked pumpkin bars. Serve, and enjoy!
Pumpkin bars can serve as a great alternative for those who aren't fans of traditional pumpkin pie. The pumpkin base, layered with sweet cream cheese frosting, yields a delicious product that will be popular among your guests.
From the pumpkin to the spice, to the greens, to the meat, to the sweet, Thanksgiving food is always sure to delight. The turkey, stuffing, gravy, mashed potatoes, rolls, brussels sprouts, green beans, among others, constitute a delicious main course. Pumpkin pie, apple pie, ice cream, pumpkin bars, and many others contribute to an awesome dessert course.
Thanksgiving is an awesome opportunity for students to pitch in and help with the planning and execution of festivities. Cooking is an easy and fun way to help prepare for your own Thanksgiving feast. So, this Thanksgiving, if you have some extra time on your hands, follow these recipes to create a truly memorable and delicious holiday.
Leave a Comment
About the Contributor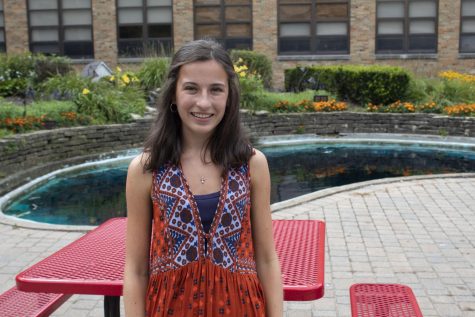 Olivia Ostrowski, Editor-In-Chief
Olivia, a senior, is excited to be apart of the Devils' Advocate team. She loves playing tennis and lacrosse, and competes in these sports at Central....