Girls' track team sprints towards third place
On Friday, Feb. 21 at 5:00 p.m., the girls' track and field team competed at York Community High School placing third in the meet, with Naperville Central High School placing second and Barrington High School placing first.
"It was a little bit of a warm-up meet for us [the track team]," said Mr. Patrick Richards, track coach. "Sophomores such as Erin Milligan ran really well in the 300-meter dash. Her time was a full second faster than last year."
Senior McKenna Revord received first place in the four-by-four relay and third place in the mile.
"Our team didn't perform well because it was the first meet of the indoor season and we are in the middle of a lot of heavy training so we all ran tired," Revord said.
Although the team faced some difficulties during the meet, they continued to support each other on the sidelines. For seniors, there is still room for improvement during their last year on the team.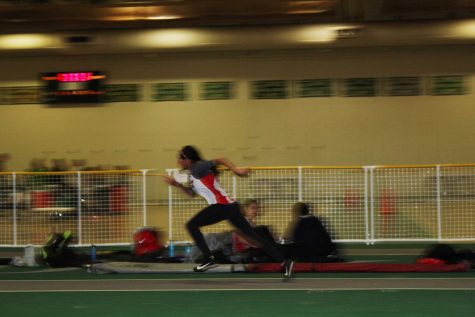 "As a senior on the team I have grown to appreciate the team atmosphere more," Revord said. "Sometimes I forgot how good it feels to cheer for other people in their events who do totally different things than me but are still great at them and are working hard to help the team succeed."
The meet hosted various events spanning from short distance including 20 meters, 55 meters, 100 meters, 800 meters and one mile to jumping events including high jump, long jump, triple jump, and pole vault. The meet also hosted throwing events such as discus and shot put, and hosted relay events such as the four by four relay.
Hosting a plethora of events allows students with different athletic abilities to be part of the team. Junior Chigo Ojiako competed in the triple jump with her highest jump landing at 9.09 meters.
"I really love how there is something for everyone when it comes to track, no matter what shape or size you are," Ojiako said. "Some events benefit athletes who have long legs, or who are shorter, or who have more muscle mass, or who are everything in between."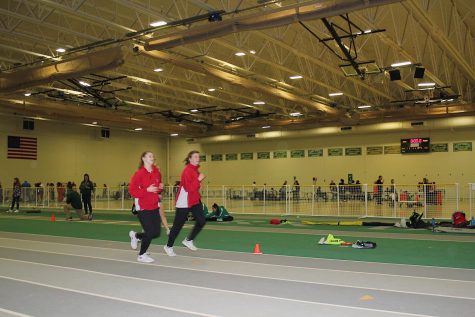 The team has track meets and practices Monday through Thursday. As they enter the start of the season, many team members want to improve their personal record (PR).
"My main overall goals are to improve my technique for triple jump and to increase my endurance so that it's easier for me to run longer distances," Ojiako said.
The friendly competitive nature of the team is a key factor in their improvement. Junior Sophia Rah increased her PR by jumping a 30.1-inch long jump.
"I love how the team is close with one another and how we sing to our favorite songs during practice," Rah said.
The next girls' track meet is Friday, Feb. 28 at 5:00 p.m. in the field house; Central will host Red Devil Tri with Metea Valley High School and Proviso East High School.
Leave a Comment
About the Contributor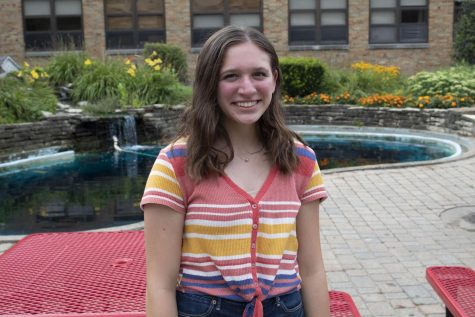 Natalia Berti, Section Editor
Natalia Berti is a senior who, when not chilling at a picturesque coffee shop or practicing her badminton footwork, enjoys re-watching the Avengers movies...