Disney releases famous park recipes
Disney Parks have been temporarily closed since March 12 due to the Coronavirus (COVID-19), but that doesn't mean you can't bring part of the Disney magic to your own home. Disney is encouraging people to "cook up some magic at home" after they released the park's Dole Whip recipe on the My Disney Experience app homepage and their churro bites recipe on the official Disney Parks blog.
"I really like how Disney released the Dole Whip and churro bites recipes because it gives people something fun to do during quarantine," said Lainie Brixie, junior.
Dole Whip
Ingredients:
4 ounces of pineapple juice

2 cups of frozen pineapples

1 large scoop of vanilla ice cream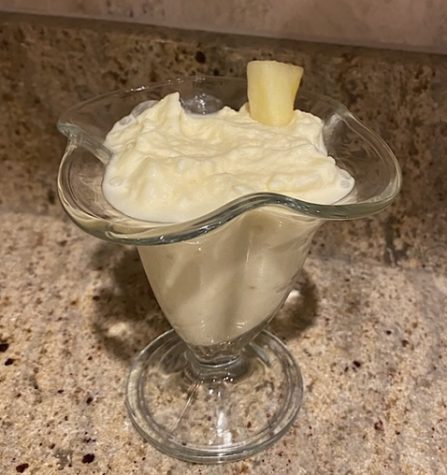 The Disney Dole Whip is incredibly easy to make and only requires three ingredients. In order to make this, all you have to do is add pineapple juice, frozen pineapples, and vanilla ice cream into a blender and mix until it has a thick and creamy consistency. The tropical flavor of the Dole Whip makes it perfect to eat on a warm day or after finishing a long day of virtual classes.
Personally, I really enjoyed the Dole Whip, especially since it only took a short five minutes to make. It had a sweet yet tangy flavor which made it different from any other fruit-flavored sorbet or ice cream I've eaten. The Dole Whip wasn't too filling because of its light and creamy texture, which I personally really like.
"My favorite Disney Park treat has always been the dole whip," said Lauren Witt, junior. "I'm so glad that I'll now be able to make it for myself."
Churro Bites
Ingredients:
1 cup of water

8 tablespoons of butter

¼ teaspoon of salt

¾ teaspoon of cinnamon

1 ¼ cups of all-purpose flour

3 eggs

1 ½ cups of vegetable or canola oil

½ cup of sugar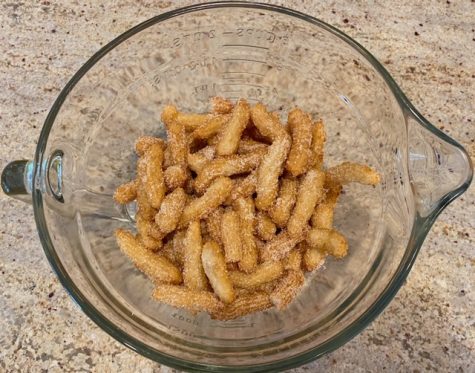 The Disney churro bites take around 45 minutes to make but are a great bite-sized treat for any occasion. First, combine water, butter, salt, and one-fourth teaspoon of cinnamon into a saucepan over medium heat until it boils. Reduce heat to low and then add in flour until the mix forms a ball. Then, remove the dough from heat and let it rest for five to seven minutes. Add in the eggs and then put the dough in a piping bag fitted with a large star tip. Pipe one-inch strips of dough. Next, heat the oil in a medium skillet until the temperature reaches 350 degrees and fry churros until golden brown. Carefully remove churros from the oil using a slotted spoon. Finally, toss churros in the cinnamon sugar mix until coated well.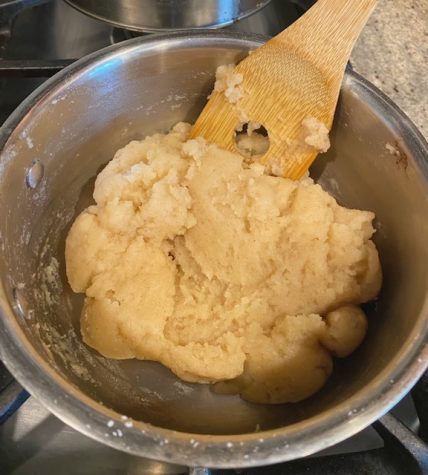 Making the Disney churro bites was definitely more time consuming and more difficult than the Dole Whip, but I was surprised at how well they came out. The churros were crispy yet soft on the inside and had an amazing cinnamon flavor throughout the dough. Despite this, frying the churros in the oil was very time-consuming and dangerous because I burned myself while frying them. The bite-sized treats are perfect as an afternoon snack or dessert, and I thoroughly enjoyed them despite the tedious process I had to go through to make them.
Leave a Comment
About the Contributor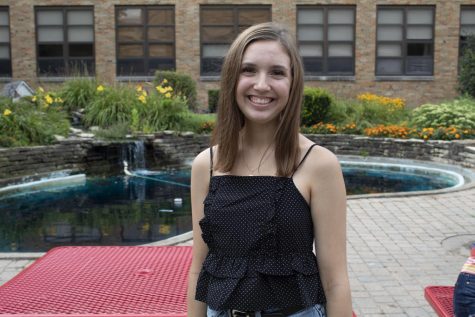 Meghan Malec, Section Editor
Meghan Malec is a senior who can be found hanging out with her friends and binge-watching Netflix shows in her free time. Her free time, however, is very...