Foods you cannot go without this Thanksgiving
This year, Thanksgiving is looking very different than in years past. With COVID-19 restrictions increasing, travel is not recommended for the holidays and extended families are discouraged from celebrating together in person. However, there are still fun ways to make Thanksgiving enjoyable with your immediate family. Most importantly, you can still indulge in a delicious Thanksgiving feast. Keep reading to see some unique and creative Thanksgiving foods that you need to showcase on your dining room table this year!
Sweet Potato Bites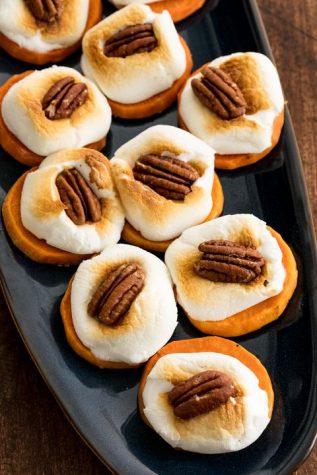 For the ingredient list, check out this link.
Directions – 
Preheat the oven to 400 degrees. On a large baking sheet, toss sweet potatoes with melted butter and maple syrup and arrange in an even layer. Season with salt. 

Bake until tender, flipping halfway through, for about 20 minutes. Remove baking sheet from oven and switch oven to broil. 

Top each sweet potato round with a marshmallow and broil until puffed and golden. Immediately top each marshmallow with a pecan half and serve.
These tasty little bites are the perfect appetizer for those with a sweet tooth! It's almost like dessert before dinner! Pop these in your mouth for a flavor adventure.
Green Bean Casserole Bundles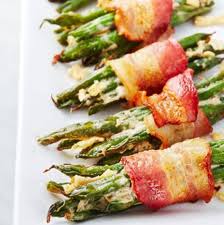 For the ingredient list, check out this link.
Directions –
Preheat the oven to 350 degrees and grease a 9 inch by 13 inch baking dish.

In a large mixing bowl, stir together soup, milk, soy sauce, pepper, and

French's

fried onions. Add green beans and toss to combine.

Grab small bundles of green beans and wrap with a strip of bacon, placing each in the baking dish snugly, seam side down. 

Cover with foil and bake until the bacon is fully cooked, which takes 37 to 40 minutes.
These green bean bundles are a unique and delicious take on a typical green bean casserole. Not only are they the perfect appetizer, but the savory bacon is extremely complimentary to the sweet green beans.
Baked Macaroni and Cheese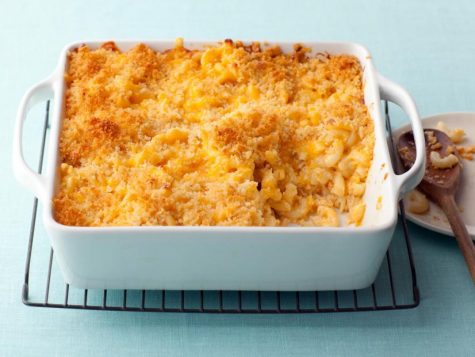 For the ingredient list, check out this link.
Directions –
Preheat the oven to 350 degrees. Prepare pasta according to package directions for al dente.

Melt butter in a large saucepan over medium. Add the next six ingredients; cook and stir for 30 seconds. Add flour, and cook, stirring, until golden, for two minutes. Gradually whisk in milk and cream. Bring to a boil, whisking occasionally. Reduce heat to medium-low; simmer, whisking, until slightly thickened, for five minutes. Stir in Worcestershire sauce. Remove from heat; stir in 3/4 cup each of shredded Cheddar cheese until melted. (Reserve the remaining 1/4 cup each of shredded cheese.) Stir in pasta and diced cheese; pour into a lightly greased 9 inch by 13 inch baking dish.

Bake on a rimmed baking sheet in a preheated oven until bubbly and golden, or for 30 minutes. Remove from the oven; increase oven temperature to broil. Sprinkle with reserved shredded cheeses; broil six inches from heat until cheeses are melted and golden, for about two minutes. Remove from the oven; cool slightly on a wire rack, for about 15 minutes.
This creamy and crisp baked mac and cheese is delicious and a good option for picky eaters, children, or those who simply love mac and cheese! You can't go wrong with this classic.
Classic Stuffing Recipe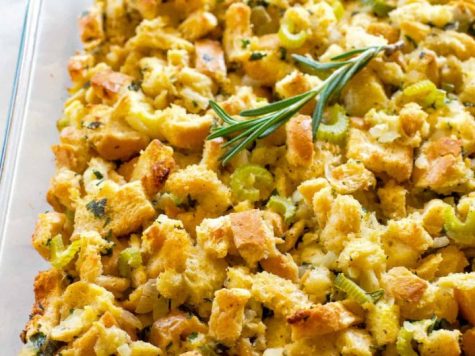 For the ingredient list, check out this link.
Directions – 
You can dry your bread cubes two ways:

Place your bread cubes in a large bowl and then sit on the counter covered for one-to-two days to dry out. Stir the bread cubes every once in a while.

If you don't have time to air-dry your bread, you can toast them. Lay bread cubes on baking sheets in a single layer and toast at 250 degrees for 45 to 60 minutes stirring every once in a while. Transfer bread cubes to a large bowl.

Preheat the oven to 350 degrees and spray a 9 inch by 13 inch baking dish with cooking spray. 

In a skillet, melt the butter and add the onion and celery. Saute until vegetables are soft. Pour mixture into the bowl with the bread. Add the parsley, sage, rosemary, thyme, salt, and pepper. Stir together. 

In a medium bowl, whisk the eggs. Add the chicken broth and whisk together. Pour mixture over bread cubes and mix well. Pour into the prepared baking dish. Cover with foil and bake for 35 minutes. Remove foil and bake for another 10-15 minutes until top is golden brown and middle is set.
Stuffing is a keystone side dish to showcase on your table this Thanksgiving. You can never go wrong with bread!! Make sure to season with herbs, salt, and pepper for the optimum taste.
Pumpkin Cream Cheese Cake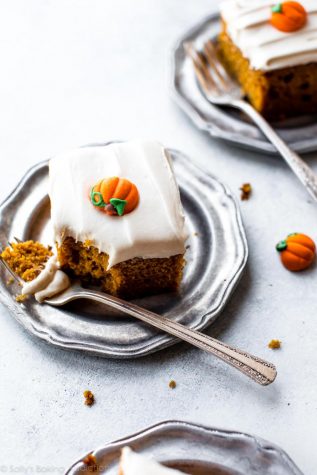 For the ingredient list, check out this link.
Directions – 
Mix the dry ingredients.

Mix the wet ingredients.

Combine wet & dry ingredients.

Pour into a prepared 9 inch by 13 inch cake pan.

Bake.

Chill

. 30 minutes in the refrigerator makes cutting easier.
This moist pumpkin cake is the ultimate dessert to please your taste buds after a filling Thanksgiving dinner. I recommend frosting this cake with a sweet cream cheese frosting to compliment the pumpkin.
Individual Apple Crisp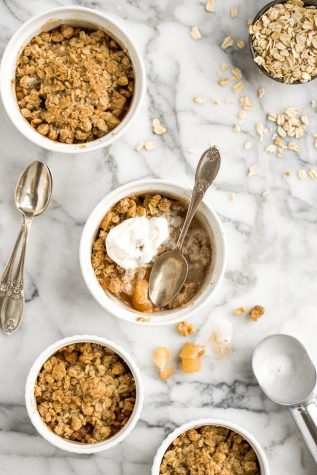 For the ingredient list, check out this link.
Directions – 
Preheat the oven to 350 degrees and grease five to six small

ramekins

(or one regular sized pie dish) with nonstick baking spray.

In a large bowl, combine apples, sugar, lemon juice, cinnamon, and salt, then stir to combine. Divide evenly between ramekins (or pour into a single pie dish).
In a separate bowl, combine flour, rolled oats, brown sugar, cinnamon, and salt. Pour in melted butter, then stir until a crumbly mixture forms.
Cover as much of the apples as you'd like with topping, then bake at 350 degrees for 40 to 45 minutes. Apples should be tender and crumb topping should be crisp.
These individual apple crisps are the perfect size for a single serving of dessert! I recommend you serve these with a generous dollop of vanilla ice cream and a warm caramel drizzle.
Prepare to dazzle your family and friends this Thanksgiving with your impressive cooking skills! While not everyone can come over to your house, feel free to drop meals off at your friend's doors to share your leftovers! And of course, don't forget about the turkey or ham!
Be safe, have fun, and have a happy Thanksgiving!
Leave a Comment
About the Contributor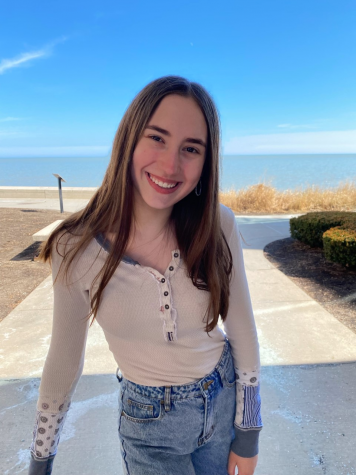 Lauren Witt, Writer
Lauren Witt is a senior who enjoys spending time with her family and friends. When she's not having movie marathons with her sister, you can find her...