Starbucks drinks to get you in the Christmas spirit
Loading ...

With the start of the holiday season comes the Christmas festivities, Black Friday sales, and last but not least, the Starbucks seasonal menu. During the previous years, Starbucks' holiday cups have stirred controversy due to the cup designs, however many still enjoy the delicious drinks. 

This season's menu includes drinks such as Peppermint Mocha, Toasted White Chocolate Mocha, Caramel Brulee Latte, Chestnut Praline Latte, and Eggnog Latte. All of these drinks are available iced, hot, or as a frappuccino. Additionally, all of these drinks are returning from previous seasons. 

"My favorite Starbucks drink during the Christmas season is their Snickerdoodle Hot Chocolate because it really gives off all the holiday flavors and really has such a fun Christmas spin on the regular hot chocolate," said Birkley Limberg, freshman. "The taste of it does not hold back either. For someone who does not like coffee I was really happy to find another alternative for a warm drink to enjoy during the holidays."

The Caramel Brûlée is a popular drink that many people enjoy. The drink is topped off with whipped cream and a supreme topping of even more crunchy caramel brulée bits. I got it as a Grande-sized cold drink. I tried it and I thought that it mostly lived up to my expectations but it wasn't quite as good as people say. It was very filling and sweet. The sweetness makes it the perfect dessert to have after a cold winter day. I would definitely recommend and rate it as an eight out of ten because it was visually appealing but a little too sweet and excessive on the caramel.  

"The Caramel Frappuccino is so bland and boring," said Suzan Nofal, junior. "However when I drink the Caramel Brulee Frappuccino I feel like I have been teleported into Paris. The little stuff on the top is so crunchy and yummy. I know it is a cold drink but it brings me so much warmth."

The second drink I tried was the Chestnut Praline Latte. I got it as a Grande-sized hot drink. It is definitely one of the best drinks I tried. It was the perfect balance because the nutty flavor and sweetness wasn't too overpowering, so I was still able to get a taste of the coffee. The Starbucks website was right in saying that it evokes "chestnuts roasting on an open fire." 

"My favorite drink is the Toasted White Chocolate Mocha because I have a sweet tooth and I personally love white chocolate flavored anything," said Samir Mirza, senior. "It's my favorite drink for the holidays and it's so aesthetically pleasing." 

Depending on the size, the cost of the drink ranges from $3.25 to around $5.50 each. The smallest size for each drink is Tall and the largest is Venti.

Starbucks also included holiday food items such as their Snowman Cake Pop which one of the workers gave to me for free. It was such an adorable design and so delicious.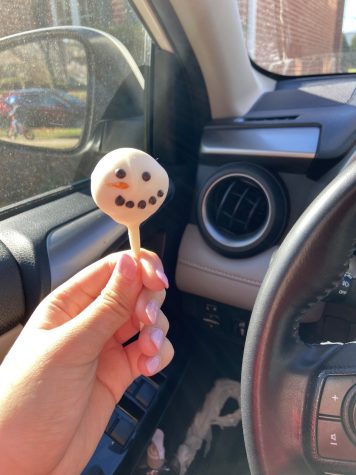 This year, Starbucks also announced a new line and design for their seasonal holiday cups. The cup is a free red collectible holiday cup with a festive design that evokes a cozy holiday sweater. Due to COVID-19, customers are not allowed to bring their own for a discounted price.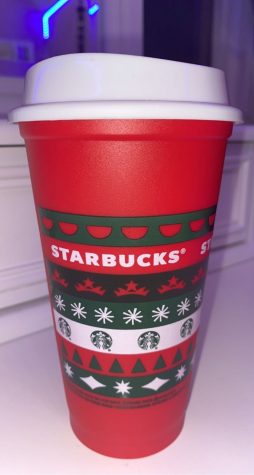 "I think the cups are super cute this year," said Demetra Theotikos, senior. "The font and design remind me of a scrapbook and I love it." 
Starbucks also came up with a new line for their disposable cups. Instead of the typical red and green hues, they've taken an updated approach to their new merchandise using plenty of vibrant pastels, ombre color schemes and even another trendy textured cup with a cute shade of bubblegum pink. 
Starbucks hasn't released the exact end date for their seasonal drinks, but judging from the past years, we can assume that holiday beverages will become unavailable around mid to late January, so go and get them while you can. 
Leave a Comment
About the Contributor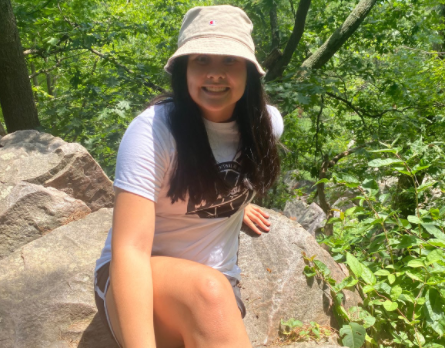 Gabi Camara, Writer
Gabi, a senior, is beginning her first year as a member of the Devil's Advocate team. When not a cross country and track practice, you can find...