Sweet Valentine's Day treats
Loading ...

Valentine's Day is a holiday full of love, candy, flowers, and of course, dessert! While you may not be able to spend the day with your significant other or celebrate with your best friends, you can still spread the love by making people you love some treats! Follow along below for some Valentine's Day recipe ideas.

Heart Sugar Cookies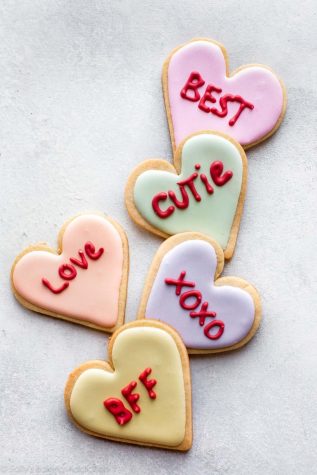 For the ingredient list, check out this link.
The baking process for these cookies is very similar to the typical sugar cookie recipe. Once all of the ingredients are combined, roll the dough into two equal parts and set to chill. Once the dough has chilled, use cookie cutters to cut out heart shaped pieces. For more in depth steps on how to make these cookies and the frosting, follow this link. Not only are these heart cookies so adorable, but they're also delectable. The sweet flavor of the sugar cookie and the thin royal icing will bring you right back to your childhood. On top of the cookies feel free to decorate however you like and have fun!
Berry Oreo Cookie Balls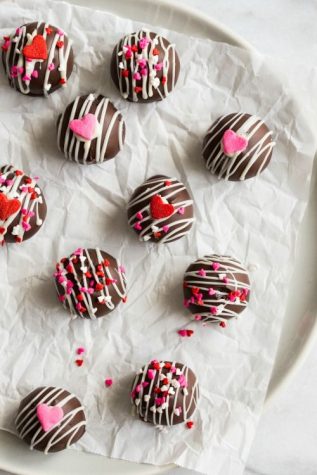 If you're not the best baker, these no-bake berry Oreo balls are perfect for you! They are an easy, yet delicious treat to make this Valentine's Day. To take these Oreo balls to the next level, I recommend drizzling white chocolate on top and decorating with some conversation hearts or pink and red sprinkles. For the complete recipe, check out this link. 
Red Velvet Cupcakes in a Jar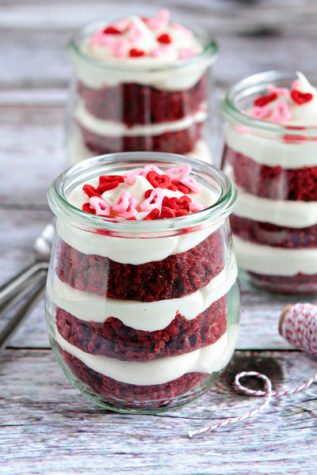 For the ingredient list, check out this link.
Red velvet cupcakes in a jar is an adorable twist on the typical cupcake. This recipe makes about 12 servings and is great to share. The rich red velvet flavor pairs perfectly with a sweet and creamy, cream cheese frosting hidden between the layers of the cake. These cupcakes are guaranteed to impress your friends and family!
No Bake Strawberry IceBox Cake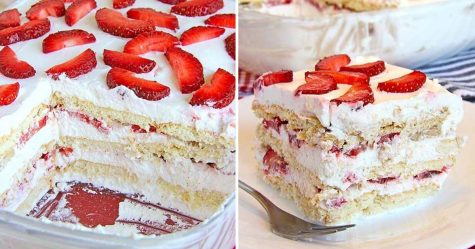 For the ingredient list, check out this link.
Here's another tasty dessert, ideal for those who don't like to bake. This no bake strawberry icebox cake is refreshing and will melt in your mouth. All you have to do is layer graham crackers around a pan and spread thick layers of heavy cream mixed with strawberries. For more in depth steps, follow this link. Make this cake to impress your friends and/or significant other this Valentine's Day!
Chocolate Cake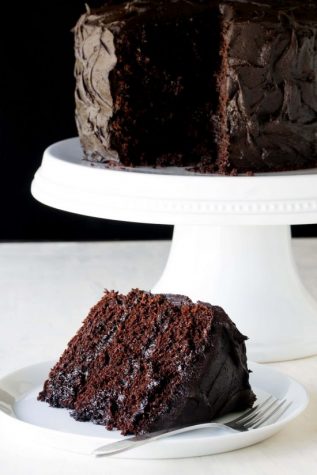 For the ingredient list, check out this link.
What's Valentine's Day with no chocolate? This moist and rich three-layer chocolate cake is great for all the chocolate lovers out there. The cake is accompanied by a delicious chocolate cream cheese buttercream frosting recipe. I recommend serving this cake warm with a generous helping of vanilla ice cream for the ultimate taste treat!
Although Valentine's Day will look a bit different this year, you can still spread the love by dropping off baked goods at your friends houses. Have fun baking!
Leave a Comment
About the Contributor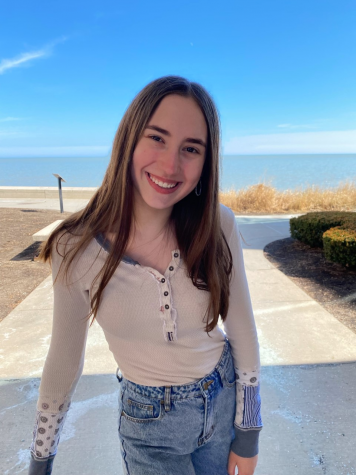 Lauren Witt, Writer
Lauren Witt is a senior who enjoys spending time with her family and friends. When she's not having movie marathons with her sister, you can find her...