Activities to do during the cold weather
In the last few weeks, Chicago has had an overwhelming surge of cold temperatures and lots of snow. Though the weather should get a little warmer, it's still one of the coldest winters Chicago has had over the last few years. Here are some great winter activities to get us through it!
5. Skiing 
It's hard to stay active during the winter when it's so cold outside, but thankfully skiing is a great way to have fun and stay fit! Four Lakes Alpine Snowsports located in Lisle is a great place with multiple ski hills for skiing or snowboarding.
 It's open 4-9 p.m. on Monday through Wednesday, 2-9 p.m. on Tuesdays, 10 a.m. – 9 p.m. on Saturdays, and 10 a.m. – 7 p.m. on Sundays and holidays.
Slope tickets range from $24-$29 depending on the day and flex or season passes are also available on their website. Skis, snowboards, and helmets can be rented upon arrival. For those who need some practice, ski and snowboard lessons are available ranging from $35-$60 depending on private or semi-private lesson options.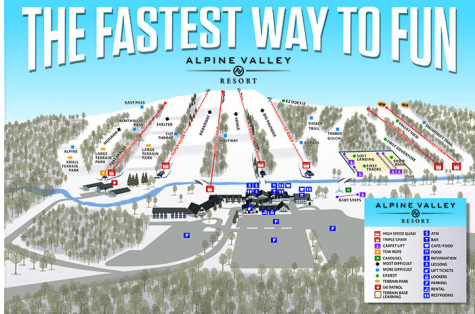 If you're looking for more of a weekend ski trip, located in Elkhorn, Wis. is Alpine Valley. Alpine Valley is a ski resort with lodging, restaurants, and several ski hills that range from beginner to expert. It's a great weekend getaway with family or friends within a two-hour or less driving distance.
"I usually ski, but my friends and I went down to Alpine one day to try snowboarding and it was super fun," said Annelise Osmundson, senior. 
4. Baking 
For the days when the outdoors is absolutely way too cold to be outside, baking is a great way to pass time when stuck indoors.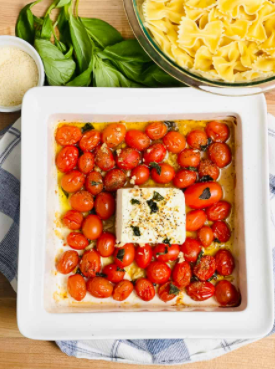 A video via the social media platform TikTok surfaced this month going viral with a recipe for baked feta pasta. The publisher of the original video, Jenni Hayrinen, told The Today Show that "The stores actually ran out of feta cheese" after so many viewers went out and made the dish themselves.
"I found this recipe after seeing the viral video on TikTok, and immediately ran to the store. I highly recommend trying to bake this at home, it was so easy and one of the best pasta dishes I've ever had. I will definitely make this again," said Parker Urick, senior. 
For ingredients and directions on how to make this dish click here.  
3. Sledding 
Over the last few weeks, the District 86 area has gotten several inches of snow, making it the perfect conditions for sledding. Before hitting the hills with a few friends, don't forget to bundle up. It's important to layer with snow pants, a hat, gloves, and undershirts with a jacket to stay warm. 
The most popular hill in the Hinsdale area is located on Madison Elementary School grounds off Madison Street. 
"My friends and I have sled at Madison hill since I was a kid, it's the best place for sledding around here," said Trevor Travoso, junior.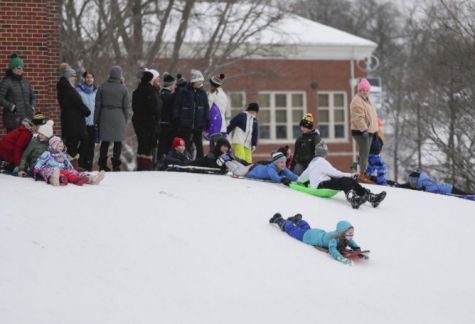 Clarendon Hills and Oak Brook have a few hills as well. Park Avenue Park and Prospect Park are both good areas for sledding surrounding downtown Clarendon Hills. There is a hill located next to the Oakbrook Library off Oakbrook Road that is great for sledding, but sled with caution as it's possible to run into a side road on the way down the hill. In 2018, the Oakbrook Park District renovated a sledding hill off of Forest Gate Road with a good amount of parking availability even when crowded. 
For more intense sledding, there is a designated sledding hill located in Barrie Park, Oak Park with a bonus of stairs to make going up the hill much easier. It's a great family-friendly destination and a quick trip to make over the weekend. 
2. Binge watch new TV shows and movies 
There's nothing better than making some warm hot chocolate and bundling under blankets to watch some new TV shows and movies on a cold snowy day. Netflix has a great selection of TV series and movies to pick from this winter!
Netflix recently released a new documentary one-season series titled "Crime Scene: The Vanishing at the Cecil Hotel," which is about the haunting history of a Los Angeles hotel, and specifically it uncovers the truth behind the disturbing death of guest Elisa Lam. The documentary is a good watch for those who enjoy true crime and aren't spooked by disturbing commentary or conspiracy theories. 
The final movie of Netflix's trilogy series "To All The Boys I've Loved Before" was released on Friday, Feb. 12. The romance trilogy focuses on the main character Lara Jean whose secret love letters mistakenly get sent to all her past crushes. It's a great binge watch to catch up on all three movies while staying warm inside on a cold week. 
1. Build a snowman
Due to the COVID-19 pandemic, building a snowman is a great outdoor activity alternative to being indoors with friends, which is suggested to be a larger risk of spreading the virus. So whether you want to build a snowman solo, or with a few friends, this is a safe activity that is still fun!
Pinterest has some great photo ideas of different ways to pose or dress your snowman. Get creative with it by using articles of clothing from your wardrobe to spice up your snowman's appearance. Or, grab a few buttons for eyes, a carrot for the nose, and sticks for arms, and recreate the classic snowman look.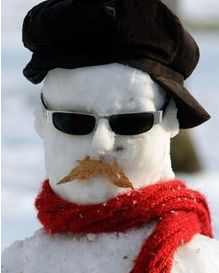 The Chicago Sun-Times launched a snowman building or drawing contest on Sunday, Feb. 14, called the Imagination Project. The contest is open through Sunday, Feb. 28, for all students from elementary to high school in the Chicagoland area. 
The theme for this season is heroism, so get creative and submit either a photo of your snowman or build a snowman artwork through their website online. There will be three winners chosen, whose submissions will get a feature on the Sun-Times and winners will receive a prize. 
Leave a Comment
About the Contributor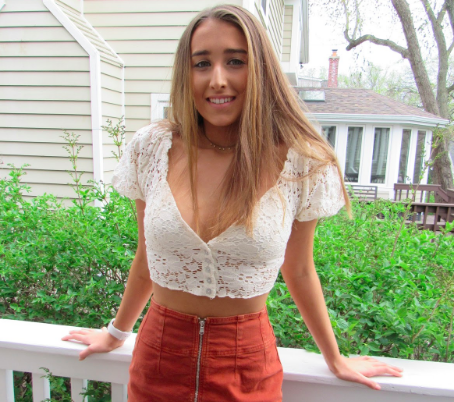 Faedra Charlton Perrin, Writer
Faedra is a senior who enjoys exploring the world and going on adventures with her friends. She loves singing along to country music at bonfires and dressing...