Is Bearology worth the hype?
Bearology, a bubble tea shop located in Schaumburg, Ill. that specializes in coffee, tea, and juices in variety of flavors, has recently been blowing up on the social media app TikTok. But is this popular shop really worth the hype? 
When you walk in on your left is a beautiful wall filled with vibrant flowers and an adorable winking bear in the middle. Across on the other wall there are all the boba flavors with pictures underneath. The rest of the place was minimalistic with pretty plants and butterflies on the wall.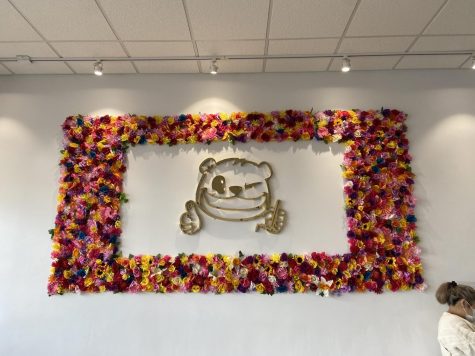 The menu features hot drinks like Crimson Punch ($3.50), housemade coffee like the Americano ($4.50), classic teas like the Thai Tea ($6.00) and signature drinks like the MangoBerry Green Tea ($6.50). There's also a small selection of pastries.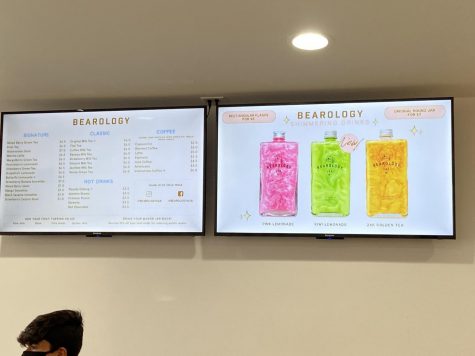 Ordering is all done through an iPad. First, you pick your base beverage. Then you are able to choose dairy options, sweetness, temperature and toppings. Toppings include Aloe Jelly, Boba, Chia Seeds, and Lychee Jelly. 
If you want to pay extra, the drinks can come in Rectangular Flasks ($9) or the Original Round Jar that we have all seen in TikToks ($7). Once bought, the jars are yours to keep and if you bring them back, you get 10 percent off your order. 
Unfortunately when I was there all the glass jars were out of stock so instead the boba came in biodegradable cups for temporary use that contain zero toxics and where plant-based corn resin.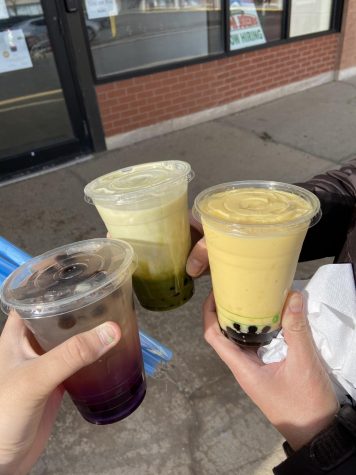 I got the butterfly lemonade tea with boba with 50% sweetness. It reminded me of a Starbucks Refresher in boba form. It tasted pretty good and was aesthetically pleasing however it was a little pricey. I would recommend that you don't get ice in order to get more of the drink. Also make sure to mix the drink well because mine was sour when I got to the end. 
My mom got the Matcha Latte ($6.50) with almond milk with 50% sweetness, boba and no ice and it was totally worth the price. It was really tasty and went down smoothly. You could taste the sweet nuttiness and the pleasant bitter undertones. Compared to other boba places this was my favorite for the matcha flavor and I definitely would recommend. 
My dad got the Mango Smoothie ($7.00) with non-dairy milk, no sweetness, boba and no ice. The mango taste was authentic and creamy. 
Overall, Bearology is an adorable Boba shop but on the pricey side and only worth it if you order the right flavors. I'm not sure if it's worth the 40 minute drive but I don't regret trying it. I would come back for the Matcha. 
For more information go visit their website Bearology. 
Loading ...
Leave a Comment
About the Contributor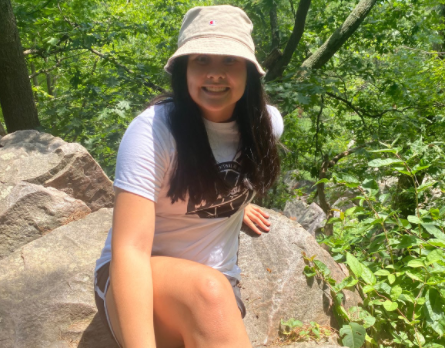 Gabi Camara, Writer
Gabi, a senior, is beginning her first year as a member of the Devil's Advocate team. When not a cross country and track practice, you can find...