Your Guide to Bubble Tea in the Western Suburbs
Due to social media, bubble tea is all the rage. Plenty of new places in the
western subs have popped up this summer, but which one is the best?
"Make it yourself" bubble tea recipes have been all over the internet, mostly because of supply chain shortages all over the world. The drink, which originated in Taiwan, can be easy to make at home, but only if you have patience and the right materials.
If you're like me and you don't have either of those things, here is your guide to the best bubble tea shops in the western suburbs.
At all of the places I went to, I tried two main drinks. The first being a black milk tea with tapioca and the second being a peach smoothie with mango popping boba. Black milk tea is one of the most basic drinks that you can get, and an easy one to master. Since that is an acquired taste, I thought that I had to include a fruit smoothie as well.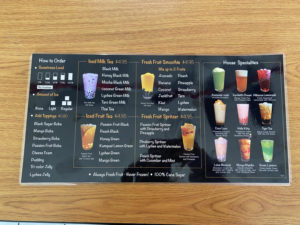 Chi Tea – 4 out of 5
I started this project by going to a place that just recently opened up this summer. Chi Tea is located at 413 E. Roosevelt Road in Lombard. Nestled in between a Cricket Wireless and a Panda Express, is this hidden gem. The restaurant seems to be always busy. When I called in to order, I was placed on hold and given a 20 minute wait time for four drinks.
When you go inside to pay, you are met with a clean and cool atmosphere. One feature wall is leafy and green with a gold sign that says "That's the tea." The sit-down portion of the restaurant is nice as well. White benches with matching tables and chairs make the interior feel open. The many plants along the floating shelves lend themselves to an organic atmosphere.
Now let's discuss the main attraction. The milk tea smoothie with tapioca was
delicious. The smoothie was creamy and had the right consistency. It wasn't too cold
and was perfect for a rainy day. My only issue was that the tapioca was too chewy.
When I asked, the worker at the front said that they make their tapioca at the restaurant.
Maybe this is what lent itself to the stale-tasting boba, but one can never be sure. 
Because not everyone loves milk tea (and because I can't drink that much boba)
I brought my dad along. He got a peach smoothie with mango boba. My dad liked his
smoothie a lot, noting that it tasted fresh and was sweet, but not overpowering as some
places can be. His only critique was that there was a lot of the mango popping boba,
and that it overpowered the peach smoothie.
In terms of milk tea and smoothies, I would give this one four out of five. The
tapioca left something to desire and there was just too much mango boba for a perfect
rating.
Chill Bubble Tea- 3 out of 5
Next we went to Yorktown Mall in Lombard to try out
a new place. Not exactly a
restaurant, Chill Bubble Tea is right below the food court, right near the main entrance to
the mall. A convenient option, my dad and I went here second, hoping to find good boba
a bit closer to home.
The storefront is cute and the menu is big, offering lots of options for
customization and even some staff favorites, pulling you in to try new things. Still, I only
ordered a milk tea and a peach smoothie, both regular sizes.
Chill Bubble Tea offered two options for sizing, something other places I visited
didn't do. Their two sizes were 16 and 24 oz.
I ordered one 16 oz. milk tea, and personally that was just too much. The
smoothie was too sweet and although the consistency was perfect, the flavor took away
from my enjoyment of the drink. Their tapioca was fresh, and the workers said that they
make it there every morning. The tapioca was just the right amount of chewy, perfect for
a milk tea.
The peach smoothie left something to be desired. It was a bit more slushy and
was noticeably sweeter than the other smoothie we had tasted already. It was way more
processed and looked it, being a more orange color than a peachy pink.
Although I
could not find an option on their menu that asked for more boba, you certainly got a lot.
The cup was at least a third full of boba, which didn take away from the drink, I simply
thought it was worth noting.
As a whole, I would rate this place a three out of five. It is incredibly convenient
and you certainly are getting what you pay for, but it isn't the best boba that you can find
if you look hard enough.
Noodles Pho U- 4.5 out of 5
Don't let the funny name fool you, this place is all business. Located at 1239 S.
Main St. in Lombard, this place is attached to a restaurant. Although the staff might not
be the nicest when you first call in, their drinks sure make up for it. The menu, which is
highly customizable, down to the sweetness level, has something for everyone.
Seeing
as Noodles Pho U is
also a Vietnamese
restaurant, their boba is
not the main focus. Of
course, it doesn't need
to be because they
already perfected their
recipe.
Although tempted to
order something over
the house specialties
menu, we stuck to our
two main orders, the
milk tea and the peach
smoothie.
The milk tea was very sweet, in a good way. The tapioca was firm and didn't
taste stale at all. The smoothie blended well too.
Overall, the smoothie was good,
definitely better than either of the places I've been.
The peach smoothie was also great. The color reminded me of fresh peaches,
unlike Chill Bubble Tea, where the color was a bright orange. The smoothie isn't as
sweet, which my dad found that he really liked. There was an appropriate amount of
boba in the smoothie, unlike both of the former places.
In total I would give this place a 4.5 out of 5. The drinks were good, and if you're feeling
adventurous, the food looked great too. It's docked half a point because it isn't
convenient whatsoever.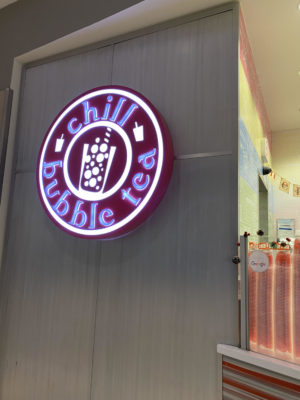 Overall, my personal favorite and my dad's favorite was Noodles Pho U. The smoothies were overall just better. There was a large menu and high levels of customization. The service was fast and totally worth the drive.
If you're not looking to go far, that's OK. Chill bubble tea is definitely a good
option as well. If you're looking for a more instagram-worthy drink, Chi Tea is your best
option.
Good luck and happy sipping!
Leave a Comment