RH Rooftop Restaurant: Reviewed by a Vegetarian
New restaurant opens in the suburbs of Chicago, is it worth it to go as a vegetarian?
On September 24, 2021, the popular Restoration Hardware (RH) opened in the Oakbrook Center after having successfully run in the city of Chicago. RH was originally just a furniture store located in Chicago with a coffee shop catering to RH shoppers. However as their coffee and snacks gained popularity, the cafe slowly expanded creating a very upscale and beautiful restaurant. Seeing as they were so popular in the city, they decided to open a branch in the western suburbs and have been successful thus far.
Getting a reservation here is quite difficult as it is extremely popular. You have to book not just days but weeks in advance depending on the time of year. Considering they opened during Covid-19 when people are still not very comfortable with eating out, they have had excellent business and have been fully booked. 
The moment I entered this rooftop restaurant, I noticed the atmosphere was automatically welcoming and the overall look was stunning. With real trees overlooking the tables, and golden chandeliers hanging from the ceiling the ambience is wonderfully established. Not to mention, there is a fountain in the center and terrace seating for warmer climates in the year. 
As a vegetarian I arrived here with the goal of finding vegetarian options that are filling and taste good, a combination many restaurants are unable to achieve.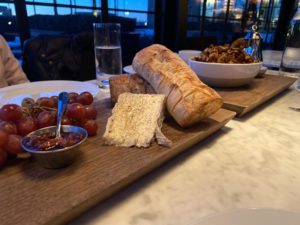 The first dish we tried was the Délice de Bourgogne Cheese. This platter was served with a warm, crisp baguette paired with Délice de Bourgogne Cheese and strawberry preserves. The combination of the creamy cheese and the sweet preserved made for the perfect salty and sweet taste, definitely a table favorite.
"A light flavorful Brie which goes well with the toasted baguette," said Shalini Kumar, my mother who dined with me.
The Crispy Artichokes was a delicious moderately sized bowl of artichokes paired with a dipping sauce that enhanced its flavor greatly. True to its name, the artichokes were extremely crispy and had a great flavor.
"[The artichokes] were done exactly right, not underdone or overdone," said Akshya Kumar, my father. 
After these two starters, our plates were promptly cleared and followed by fresh plates as well as silverware. Throughout the courses, our server was kind and answered any questions or concerns we had. This included our vegetarian restrictions, which were well taken care of.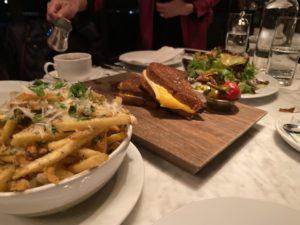 Next, we were served the Truffled Grilled Cheese. I had researched this item prior on their menu and it was definitely something I had to try. However, this item belongs to the lunch menu but despite this, our server was happy to provide it for us upon my mention. I enjoyed this dish; the bread came out nice and crisp to create an appetizing crunch while the blend of cheeses made it a delicious experience. It was also served with peppers on the side, which I personally did not enjoy, however my mom and grandma loved the addition. 
We also decided to order the Shaved Vegetable Salad which was not only delicious but impressively presented. This salad has an assortment of greens along with vegetables sliced as thin as paper. It was just as enjoyable to eat as it was aesthetically pleasing. It is quite a big portion, however, so keep that in mind if you decide to order this. 
Lastly, we ordered their Truffled Fries. If I had to pick a favorite out of everything I had tried, it would be this dish. While the fries were just a bit on the softer side, that does not compare with the amazing flavor infused in them. The truffle flavor is the perfect amount incorporated in every bite and the light sprinkling of cheese on top gives a great touch. The sauce given on the side was also a delicious addition to these already amazing fries.
"Nowhere have I eaten truffle fries where there is truffle in the cheese," my mother said.
Expect good-casual attire as you enter this restaurant. This place can get pricey depending on what you order, which is also something to consider when you come here. 
Overall, my dad and grandma gave it a rating of four out of five  while my mom and I gave it a rating of four point five out of five. They exceeded my expectations for being vegetarian-friendly as well as having great attention to detail. I would, without a doubt, come to this place again when I get a chance and I would highly recommend a visit if you are able to. It is located at 1300 22nd St. in Oak Brook, Ill. 
Leave a Comment