Watch out for First Watch
From the devoted staff to the large portions, First Watch creates a friendly atmosphere that I would recommend to every brunch fanatic.
Founded in 1983, First Watch established their first restaurant in Pacific Grove, Calif. –
focusing on using fresh ingredients in both healthy and indulgent meals.
On March 15, 2021, a new First Watch franchise opened in the Shops at Oakbrook strip
mall in Oakbrook, Ill. Take caution to get there as early as possible – the parking lot fills
up quickly during the day.
First Watch recently released their holiday menu, where the starring ingredient is
cinnamon. Cinnamon is featured in juices, pancakes, and of course, cinnamon rolls.
I visited the Oakbrook location with my dad, who is definitely the chef of my family. I was
curious to see his opinion on this restaurant.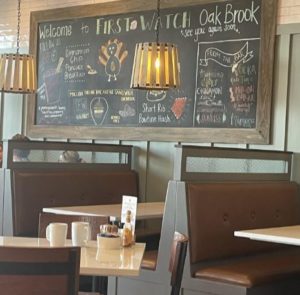 We were greeted by very friendly staff members, country Christmas music and the cozy yet modern decor. We arrived around 8 a.m., and there was no wait.
As for COVID-19 precautions, masks are required. Additionally, the staff is required to
sanitize tables and other surfaces between customers.
We ordered three items off of the holiday menu and one item on their regular menu.
Because they have a large menu, it was hard to decide what to get. Eventually, we
decided that our feast would consist of:
Shareables:
Caramel Pecan Cinnamon Roll – 10/10 overall; there was plenty of caramel sauce and
icing, so the roll wasn't dry like most cinnamon rolls. The pecans provided a nice crunch
in contrast to the doughy sweetness of the rest of the dish. This was by far our favorite
out of everything we tried, and it is perfect for splitting between two people.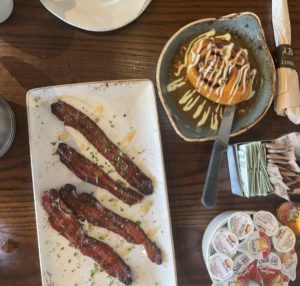 Million Dollar Bacon – 2.5/10 overall; the four pieces of bacon were served lukewarm
and seemed like cayenne pepper was dumped on the dish as an afterthought.
There
was a sweet taste of maple syrup to start with, but something didn't sit well with us as
we continued to eat.
Entrees:
Cinnamon Chip Pancake Breakfast – consisted of a huge
pancake, eggs any style, and meat of your choice
I would give this meal a 8.5/10. I drenched the pancake and sausage (my meat of
choice) in very warm maple syrup and I had an epiphany that I prefer my pancakes
large, thin, and crispy (aka First Watch style) with a generous scoop of butter on top.
Don't knock it till you've tried it. The sausage was very good, as compared to sausage
links that I have had at hotel breakfast buffets. When I tasted the scrambled eggs, I only
tasted disappointment. They were bland and didn't even taste like they were seasoned
with salt. Fortunately, the eggs didn't ruin the entire meal for me. If you come to First
Watch, definitely try one of their various pancakes, but pass on scrambled eggs.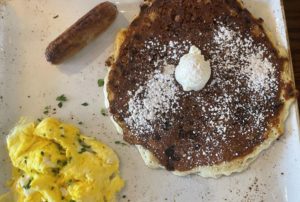 Biscuits and Turkey Sausage Gravy with Eggs (the entree my dad ordered off of the "Egg-sclusive" section of the regular menu) – My dad would give this meal a 7/10. I can recall him ordering biscuits and gravy many times, so I wondered if this would be up to his incredibly high standards. He really seemed to enjoy the biscuits, and he said the eggs were perfectly over easy. The potatoes, however, disappointed him the most. We are both huge fans of crispy breakfast potatoes with lots of seasoning, but these seemed lackluster to him. He gave the potatoes alone a 4/10, as they were not as crispy and hot as he would have liked them to be.
While waiting for the food, my dad enjoyed multiple cups of coffee, and even
recommended it to me. If I wasn't banned from caffeine, I would have tried some and
added one of the many varieties of dairy and dairy-free creamers.
I also noticed that most of the clientele was families with young children and older
couples, but my dad and I didn't feel out of place.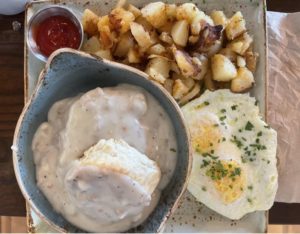 Overall, my dad and I had a great time coming here. We usually don't wake up early on Saturdays, but it was worth it for the quality of food and service that we received at First Watch, located at  2155 22nd St. Ste 24, Oak Brook, Ill. open Sunday-Saturday 7 a.m. to 2:30 p.m.
Leave a Comment
About the Contributor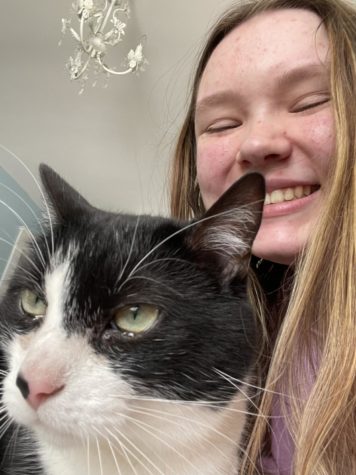 Caroline Petersen
Caroline Petersen, junior, is excited to be joining the Devil's Advocate team. She has written for the publication as a contributor since freshman year....