The best desserts to make this Christmas break
The time has finally arrived: lit up houses in the night, families putting up Christmas trees, rewatching "The Polar Express" with your friends and most importantly, making Christmas inspired desserts. 
Everyone has their own dessert which reminds them of the holidays. Whether it's peppermint-flavored or not, tradition is what counts. 
"…Potato chip cookies remind me of the holidays," said Elizabeth Meersman, sponsor of Family, Career, and Community Leaders of America (FCCLA). "My mom was not the best baker but these ones she never messed up and she made them every Christmas. I remember the recipe was on a photocopied piece of paper and called specifically Jay's Potato Chips. I don't didn't even like potato chips but mixed in the cookies, they were so good. "
Below, I've compiled a list of my top four favorite desserts to make during the holiday season. 
Gingerbread Cookies
First we have the classic Christmas dessert: gingerbread cookies. While many people don't enjoy the taste of them, this recipe will forever change your opinion on the gingerbread world. But, the best part of making them is being able to make it with your friends and family. So, grab a friend and enjoy the recipe below. 
"I like baking Gingerbread cookies because it isn't difficult, and I think it's nice to bake with your friends and family," said Zuzanna Sokolowski, junior and one of the leaders of FCCLA. 
Ingredients:
1 1/2 sticks butter, softened

3/4 cup packed brown sugar

2/3 cup molasses

1 large egg

1 tsp. pure vanilla extract

3 1/4 cup all-purpose flour

1 tbsp. ground ginger

1 tsp. baking soda

1 tsp. ground cinnamon

1/2 tsp. ground cloves

1/4 tsp. ground nutmeg

1/2 tsp. kosher salt
Directions: 
Mix butter, brown sugar and molasses. Then add eggs and vanilla. 

In another bowl, mix flour, spices, baking soda and salt. Add all ingredients together. 

Chill the dough and preheat the oven to 350 degrees.

Cut out gingerbread men and bake for 9-10 minutes. 
Peppermint Bark Brownies
These delicious peppermint bark brownies are perfect to make for your family this Christmas. Similar to regular brownies, these desserts use peppermint extract to add a bit of holiday taste. My favorite part of this recipe was the way it stayed incredibly soft throughout the week. 
Ingredients:
6 oz. dark chocolate

½ cup unsalted butter

¾ cup granulated sugar

¼ cup light brown sugar

2 eggs

1 teaspoon vanilla extract

1 teaspoon peppermint extract

½ teaspoon salt

1 tablespoon cocoa powder

⅔ cup all-purpose flour

½ cup white chocolate chips
Directions:
1. Mix chocolate, butter, and sugars together
2. In a separate bowl, mix Eggs and vanilla/peppermint extracts together
3. Mix salt, flour and cocoa powder, and chocolate chips into the egg mixture
4. Combine all ingredients and bake at 350 degrees.
Peppermint Bark
With just 3 simple ingredients, peppermint bark is an easy recipe that does not require using an oven. If you are in a hurry to make a delicious dessert this Christmas, try peppermint bark. It contains chocolate, which everyone enjoys, and adds some holiday cheer to spice it up a little.
"When I think of the holidays, candy canes come to mind. It's the peppermint smell that gets me in the mood to celebrate the change in seasons," said Anisha Undevia, member of FCCLA. 
 Ingredients: 
2 cups chocolate chips 

2 cups white chocolate chips 

12 crushed candy canes 
Directions:
Melt dark chocolate chips, spread across parchment paper, freeze for 5 minutes 

Melt white chocolate chips, spread over dark chocolate

Sprinkle crushed candy canes over and freeze for 1 hour
Chocolate Peppermint Cheesecake
This wonderful dessert is more time-consuming than the previous recipes but, in my opinion, is the best treat yet. This cheesecake has a crumbly graham cracker crust that acts as the base for the soft peppermint-flavored custard. If you want a delicious recipe to serve up to 5 people, the chocolate peppermint cheesecake is the perfect choice. 
Ingredients: 
12 graham crackers crushed 

½ cup of butter 

24 oz cream cheese 

¼ cup sugar 

4 large eggs 

1 tbsp peppermint extract 

10 candy canes 
Directions:
Mix butter and graham crackers and bake at 350 degrees 

Mix cream cheese, sugar, eggs and peppermint extract 

Pour cream cheese batch over graham cracker foundation and bake for 1 hour 

Top with frosting and crushed candy canes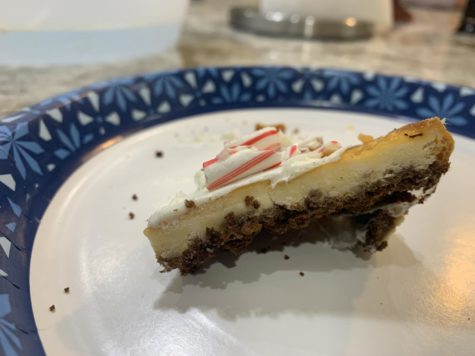 Visit Tasty to get the recipes and directions.
Leave a Comment