Get ready for Winter with Westmont's Katy's Dumpling
Chocolate, mint and cinnamon are all well known flavors for the Winter and Fall seasons, but when it gets cold, my family and I crave savoury and spicy flavors in soups and noodles. And for seven years we've always gone back to Katy's Dumpling on Cass Avenue in Westmont for arguably one of the best Taiwanese noodle soups in DuPage County (that we've had at least).
Before arriving, we called their number to reserve a table and order soup dumplings
($11.95) since we guessed it would get busy. However when we got there we were
seated right away.
Two styrofoam cups of jasmine tea and a metal steamer came to our table. Inside the
steamer were eight soup dumplings, served with a bowl of ginger on the side. In each
dumpling wrapper is a pork meatball and a flavorful chicken broth that was so
comforting to eat after escaping the 36-degree-weather outside.
The dumpling itself is
simple and delicious, but I'd recommend mixing vinegar with the ginger to dip the
dumplings in to add acidity to the meat and mild broth (9/10).
Before steaming, we learned, the broth is actually a gelatin which is put in the dumpling
wrapper with the meatball.
"We make a jelly with the chicken broth so that the soup doesn't leak through the
wrapper when it steams," said our waiter, William.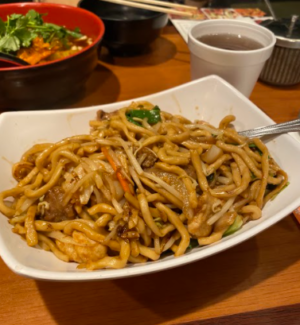 We then ordered our entrees. My mom got the Spicy Beef Tendon Noodle soup ($13.95) with hand pulled noodles, beef broth with chili oil and garlic, a generous amount of beef tendon, pickled vegetables and coriander. The broth was spicy but not too heavy and the noodles were soft and chewy. The pickled vegetables and coriander cut through the spicy and soft mouthful you'd get from the rest of the dish. Each ingredient adds balance to the dish which makes this noodle soup one to come back for (9/10).
This dish is what they're best known for. Both the recipes for the noodles and the broth
have been passed down from owner to chef. In the kitchen there are three chefs from
Chong du, Hong Kong and Taiwan and the soup recipe is a well kept secret that only
chefs working here know.
"People come in here to try the noodle soup and replicate it for themselves but it never
turns out the same as ours,"  William said.
I got the Combination Noodle Chow Mein ($13.95) to try something new. It was a stir-fry of their hand made noodles, bokchoy, bean sprout, beef, shrimp, chicken and scallion.
All the proteins were cooked nicely and were seasoned well but it didn't have the same
complex flavor the soup had (8/10).
The tables are disinfected and the staff members wear their masks properly. To come
here would be the size of the restaurant and there is no public bathroom. During my visit
there were 5 tables of 4 in the restaurant but customers can order carry-out or buy
frozen bags of their dumplings to cook at home.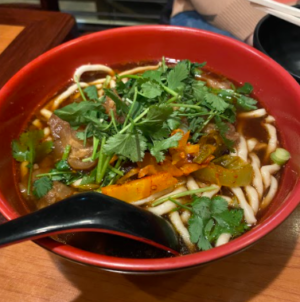 The service from the staff was good. William was very kind to us and explained the menu items well. And since the place is small, it's hard for the customer to be left unattended. The atmosphere is that of any good small business: comfortable and
intimate.
There's a reason why we keep coming back to Katy's Dumpling and that is because it's
good comfort food. Soups in general are a breath of fresh air from the cold so consider
warming up this Winter with your own bowl of Taiwanese noodles at Katy's Dumpling
located at 665 N Cass Ave, Westmont, Ill. 60559, open 11 a.m. to 9 p.m. every day
except Monday or 1113 Lake St., Oak Park, Ill. 60301, open 11:30 a.m. to 8:30 p.m.
Leave a Comment