Rating Valentine's Day inspired foods
Valentine's Day is a special time of year, as it gives us the perfect opportunity to pamper ourselves and loved ones with treats from the heart. Whether you enjoy sweet pasties, or one of a kind drinks, you can find them all at your favorite stores.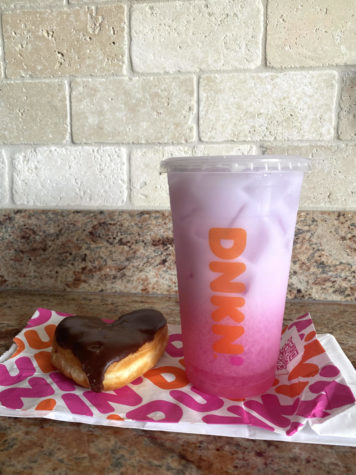 I tried Dunkin's Pink Strawberry Coconut Refresher, and paired it with a heart shaped chocolate donut. 
"Every year, I always look forward to trying Dunkin's holiday drinks and donuts. Their seasonal items are big hits," said Kaitlin Lynch, sophomore and former Dunkin' Donuts employee.
This drink reminded me of a strawberry Ring Pop, and my only critique would be that it was strikingly sweet. For some, this may be a deal breaker, but for those with a sweet tooth, this beverage is calling your name. The refresher is made with coconut milk, which proved to be refreshing and perfect for customers who desire more non-dairy choices. The ombré presentation was also a bonus. My overall rating is a seven out of ten.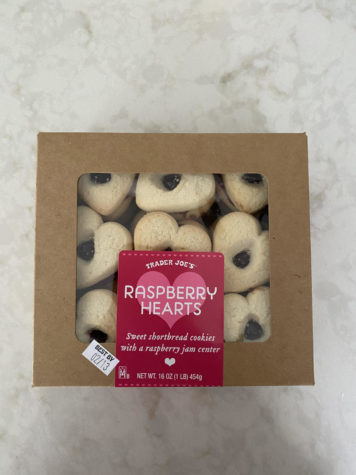 Trader Joe's has a wide selection of deserts for the holiday, and I was tempted to try everything. I went with their "Raspberry Hearts," a delicacy that consists of a shortbread cookie stuffed with raspberry jam. Typically, I am not a fan of jam, but these cookies were an exception. The filling was not overpowering, and had the perfect amount of sweetness mixed in. These cookies score an eight out of ten in my grade book.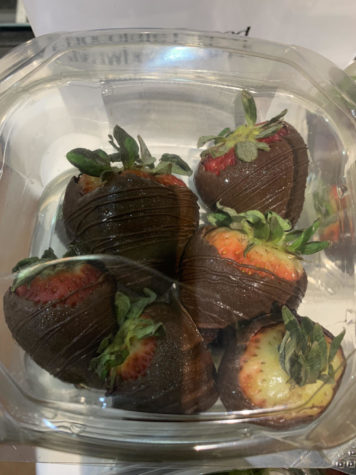 Chocolate covered strawberries are a classic and can be the quintessential romantic gift. Whole Foods Market did not disappoint with their divine strawberries.The dark chocolate coating combines wonderfully with the tart taste of the berry. These treats are available throughout the whole month of February, but make sure you grab them before they are gone. They have earned a rating of ten out of ten points. Winner!  
"I love going to Whole Foods, as their bakery section is filled with my favorite desserts. You can rely on them to have an assortment of festive food," said Elizabeth Salisbury, junior.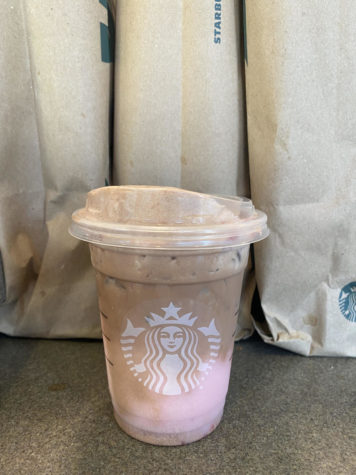 This beverage is not on Starbucks' everyday menu, but can be ordered easily. The chocolate cold foam is an excellent contrast to the strawberry coconut base. This drink has a lighter consistency, making it ideal at any hour of the day.
"My friend recommended that I try this drink and I have gotten it ever since. It's perfect for a quick energy booster," said Olivia Costello, junior.
Although this drink has a Valentine's Day vibe, it can be ordered year round, earning a nine out of ten stars.
How to order: Pink drink with sweet cream cold foam and chocolate added in the foam.
Although there is a chill in the air, February is the best time to cozy up next to a fire and indulge in some tasty treats. Valentine's Day is a wonderful chance to try some fun holiday inspired creations, or find a new favorite drink that you can enjoy year round. Don't miss out this February 14. Stop in your local establishments and take advantage of all of the delicious sweets.
Leave a Comment
About the Contributor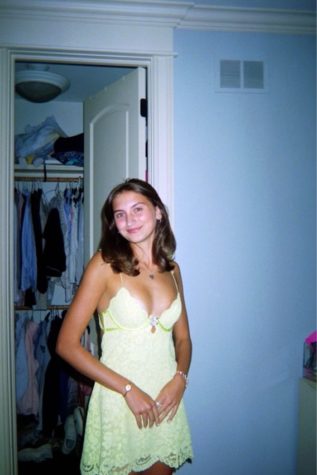 Taylor Levin
Taylor Levin, senior, is excited to be returning to Devil's Advocate as an Editor-In-Chief. She spends most of her time playing tennis for the Hinsdale...