Clarendon Hills' newest coffee shop: Tierra Distillery and Cafe
Tierra Distillery and Cafe opened June 17 in downtown Clarendon Hills, at 221 Burlington Ave., with the concept that a cafe serving coffee would be open in the morning and a bar serving distilled alcohol would be open in the evening. The cafe is open from 6 a.m. to 2 p.m. every weekday and 7 a.m. to 2 p.m. on the weekends. 
Tierra is owned and operated by Brandon Getchel and John Keeley, who run the distillery portion of Tierra. They then brought Jason Rusk into the business to run the cafe. 
"We want to have our spirits, that's the main focus," Rusk said. "But we just want to provide good drinks for the community, whatever that may be."
Rusk then further explained that opening the cafe for the morning just made sense. With the distillery and tasting room being open only in the evenings, utilizing the storefront in this way became an obvious solution. 
The cafe menu includes basic coffees, espresso based drinks like lattes and cappuccinos, some seasonal lattes, as well a variety of caffeinated beverages like tea and hot chocolate.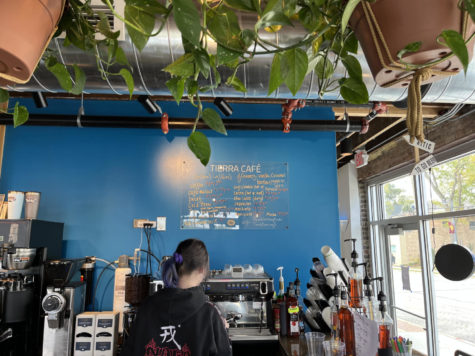 "I'm not a big fan of coffee," said Hannah Fawley, senior. "So, I like that Tierra has things like hot chocolate and tea too."
Tierra also has a few specialty items like kombucha, chai, and house-made lemonade that is made from leftover lemons from some of the spirits that they make. 
"One of the cool things about a local spot like this, that's a bit smaller, is that we get to play with variations," Rusk said. 
Rusk also explained that many people use the cafe to work or have meetings during the day. 
"There's some indoor seating that I think could be really good for studying," said Nysha Adusumilli, senior. 
Along with their seating on the first floor ordering area, Tierra has an entire upstairs. 
"There's also a big lounge in the upstairs area with a couch and tables up there," Fawley said. "It's really cozy."
The ambiance and environment at Tierra is different from the environment that you would find at a chain coffee shop.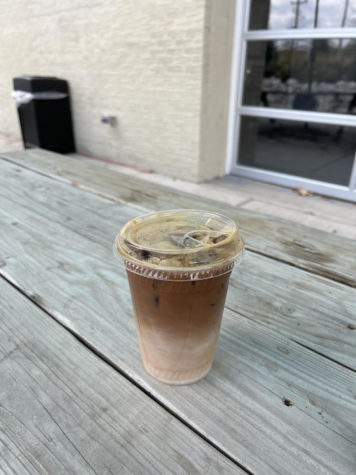 "I think the vibe at Tierra is really cute," Adusumilli said.  "It's typically quieter compared to a Starbucks or Peet's Coffee." 
Tierra is located right down the street from a Starbucks Coffee, which is generally not ideal for a small business. But, Rusk's opinion on the matter differs from the usual competitive business nature.
"My viewpoint is we're not competing with them," Rusk said. "We're playing in the same space, but we have two distinct and different propositions."  
According to Rush, Tierra is just getting started in Clarendon Hills and looks forward to expanding on their hours and menus. 
"We're looking to get to a point where we can expand and have all the cafe offerings, so your lattes, cappuccinos, and espresso, ready and available to come in after school or work," Rusk said. 
For more information about Tierra Distillery and Cafe, click here. 
Leave a Comment
About the Contributors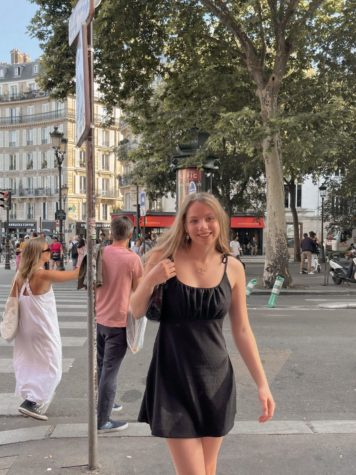 Rachel Brugge
Rachel Brugge, senior, is excited to continue writing for Devil's Advocate. She loves fashion, traveling, art, and 90's punk rock. Along with Devil's...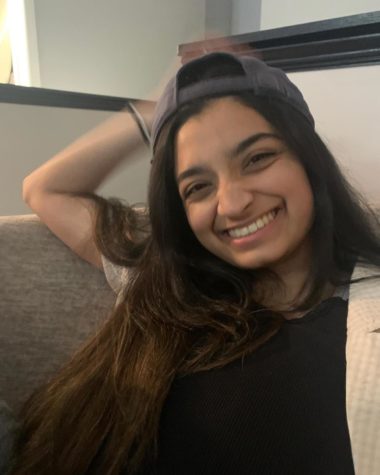 Simrah Qasim, Editor-In-Chief
Simrah Qasim, senior, is excited to be returning to devil's advocate. She loves listening to music, writing, and playing the piano. Along with Devil's...