We all scream for ice cream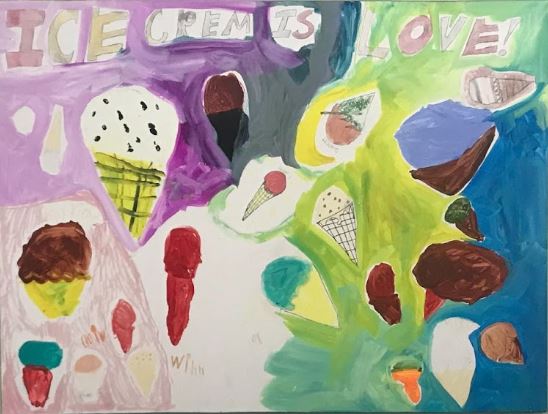 With summer fastly approaching, many things come to mind: the end of the school year, warm weather, summer vacation, but most important of all, ice cream. 
Earlier this spring, Hinsdale welcomed a new ice cream shop in its village for the first time in several years. On March 3, 2023, Everyday's a Sundae held their grand opening within their Hinsdale location. With this new opening along with the arrival of summer, many Hinsdale Central students have expressed renewed interest in local ice cream shops. 
Listed below are six unique ice cream shops with their own individual quirks and twists which Hinsdale Central students should know about.
1. Every Day's a Sundae
The second you walk into the store, you are greeted with the decadent aroma of chocolatey goodness. Every Day's a Sundae opened their second location in downtown Hinsdale during March. The store serves a large range of different sorbets, ice cream, and sundaes, including peach, traverse city cherry, coconut almond fudge, turtle cheesecake, and a Hinsdale Delight.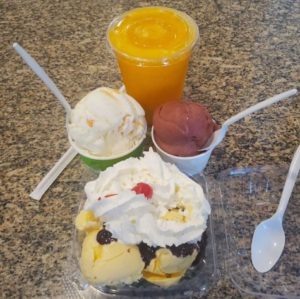 As the store is only a short distance from Hinsdale Central, many students have already begun to enjoy the new ice cream store.
"Me and my friend Annie went to visit the store," said Leah Packer, sophomore. "I got an Oreo ice cream, and it was really good."
Every Day's a Sundae is located at 14 W. Hinsdale Avenue, Hinsdale, Ill. 60521.
2. Tizzy's Treats & Eats
Opened in 2020, Tizzy's Ice Cream Treats is a wonderful ice cream parlor unbeknownst to many Hinsdale Central students. The store provides many unique ice cream flavors, including Playdough, Lil' Blue Panda, Blue Moon, and Midnight Caramel River. Not only does the store sell ice cream, but they sell many other goods including custom cakes, chocolate covered bananas, cake cups, smoothies, and epic shakes. The epic shakes is what makes Tizzy's Treats and Eats truly special.
Rimmed with sprinkles, the epic shakes are covered with a variety of toppings, including whipped cream, oreos, marshmallows, cookies, mini-cupcakes, and airheads. Not only are the shakes a deliciously garnished item, but they have an intriguing origin as well.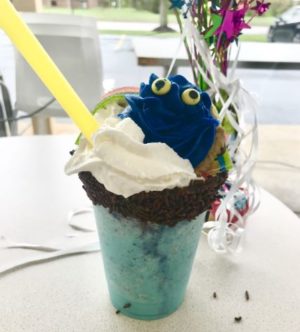 "Me and my wife were out having Bloody Marys," said George Zinares, the general manager of Tizzy's Treats and Eats. "The Bloody Marys were over the top and they put a bunch of bacon and celery and stuff. That was kind of the influence crossing over from the idea from the Bloody Mary that we experienced in our dining experience to our own business."
Tizzy's Treats and Eats is located at 737 Plainfield Road, Darien, lll. 60561.
3. The Daily Scoop
After being in business in Clarendon Hills for 21 years, The Daily Scoop has established itself as an integral part of the community. Most of the staff are high school and college students, many from Hinsdale Central. The shop serves a variety of shakes, sundaes, and ice cream flavors, including superman, traverse city cherry, yellow cake batter, mackinac island fudge, and even a red devil surprise.
"Every year, pretty much since day one, [the most popular flavor] has always been mint chip or mackinac island fudge," said Chuck Kauffman, the owner of The Daily Scoop, "It literally goes back and forth each year."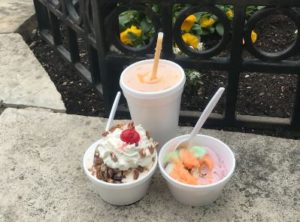 Along with the variety of ice cream flavors, the positive, friendly, and warm personality of the owner and staff made the shop have a very enjoyable atmosphere.
The Daily Scoop is located at 9 S. Prospect Ave., Clarendon Hills, Ill. 60514.
4. Melt n' Dip
With locations in Lebanon, Iraq, Canada, and the United States, Melt n' Dip is an international franchise sure to satisfy your dessert cravings. While the franchise is known for its chocolate covered crepes and waffles, they also serve a variety of gelato as well, including flavors such as strawberry pomegranate, mango, oreo, pistachio, raffaello, ferrero rocher, and cheesecake. Besides gelato, Melt n' Dip uniquely serves Damascene Ice Cream, which is hand pounded ice cream originating from Syria which is topped with keshta (clotted cream), pistachios and wisps of cotton candy. 
"I think it's fire," said Yusra Shakaib, sophomore. "It's like the best gelato ever. The staff is super nice, especially about sampling."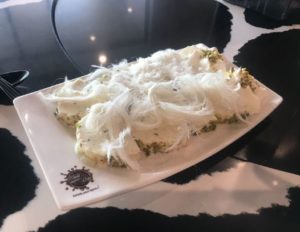 Melt n' Dip is located at 6300 Kingery Highway #126, Willowbrook, Ill. 60527.
5. Kurimu
While Kurimu may be a small stretch from Hinsdale Central, for those who are fans of the Peanuts, a trip to the store would be well worth the drive. Kurimu, which is located close to Woodfield Mall, serves ice cream, soft serve, and boba. The soft serve flavors are constantly changing with new flavors being added regularly. However, there is a wide litany of asian-inspired ice cream flavors, including pandan, very avocado, lavender w/rose water, black sesame, sweet corn, mango tango, durian, lychee pearl, blackpink, and many more.  
What further distincts Kurimu from other ice cream shops is their Peanuts themed ice cream! Until October 31, 2023, Kurimu will serve Peanuts themed products, with ice cream topped with wafer versions of iconic Peanuts characters such as Snoopy and Charlie Brown. If you are a fan of the Peanuts, this store should definitely be on your bucket list.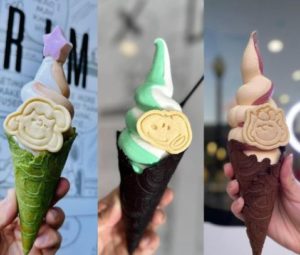 Moreover, Kurimu is having a temporary collaboration with Aya Pastry, a Chicago based bakery which sells tarts, cakes, breads, and many other types of pastries. As part of their collaboration, Kurimu sells distinctive desserts, including Pavlova ice cream (ice cream on top of a pillowy meringue) and cream puff soft serve. 
"It is definitely a place you want to visit at least once for its unique snoopy aesthetic," said Amira Ghadeer, (writer's mother). "I genuinely enjoyed the hibiscus pavlova that was topped with ice cream. The meringue melted in your mouth, and I thought it was a unique and delicious way to serve ice cream."
Kurimu is located on 601 Martingale Road #165, Schaumburg, Ill. 60173.
Photo from Eiffel Waffle's official instagram page, eiffel.waffle
6. Eiffel Waffle
While many ice cream stores on this list have made themselves unique due to the type of ice cream they offer, Eiffel Waffle seems to differ. What isolates Eiffel Waffle from other ice cream stores are their waffle cones. Waffle cones, which are thick waffles made into a honeycomb-like shape, are uniquely served with ice cream at Eiffel Waffle. While the store has their own unique creations such as Cookie Monster Bubble Waffle and Night in Paris Bubble Waffle, you also have the ability to construct your own cone.
Furthermore, the store offers many other unique items, such as shakes, bubble waffle sticks (bubble waffles on a stick covered in toppings such as cinnamon or sprinkles, and ice cream flavors such as black raspberry chip, mango sorbet, chocolate hazelnut ganache, cherry vanilla, and cosmic cookie. 
Eiffel Waffle first opened in 2020, and has quickly expanded to six different locations across the Chicagoland area, including a location in downtown Downers Grove. What further distincts the store is that their items are Halal and Kosher, including their marshmallow toppings.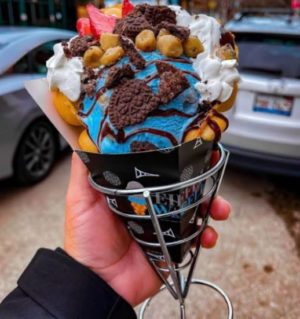 "What I immediately noticed was that they had Halal items, including the marshmallows," said Zainab Ghadeer, (writer's sister). "I appreciated this because sometimes as a Muslim it is hard to find Halal food items, especially in franchised restaurants. I really enjoyed the bubble waffle cones, as they gave large portions and lots of toppings like whipped cream, strawberries, and cookie dough. It was very aesthetically pleasing."
Eiffel Waffle is located at 1028 Curtiss St., Downers Grove, Ill. 60515.  
With all of these ice cream store options within our area, no doubt you will be able to beat the heat this summer.
Leave a Comment