On Tuesday, Oct. 3, the girls varsity tennis team competed against Hinsdale South. Central won 5-0 against the Hornets. 
The team aims high during each match, hoping to continue their two-time state championship streak.
"The goal for this season is to win conference, sectionals and state," said Shawna Zsinko, varsity head coach.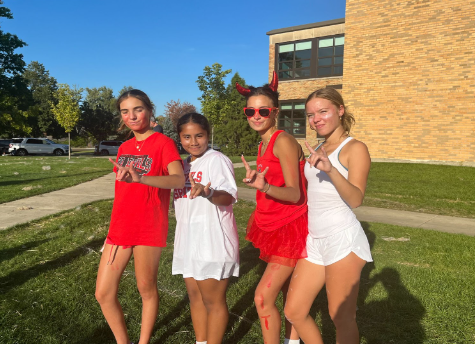 Before the game, players keep each other motivated by listening to high energy music and singing along. As well, they often chant school-specific chants in preparation for their match.
Story continues below advertisement
"[We chant] '1, 2, 3 Devils,'" said Mia Batenic, junior and varsity player.
The team works with each other through various struggles and blocks. 
"The best part of playing tennis at Hinsdale Central is the teammates and their encouraging cheering that fuels you to win and to keep going," said Anjali Srinivasan, sophomore and varsity player.
To gain momentum, players utilize a positive attitude on the court.
"We always walk out with a smile on our faces," Srinivasan said. 
The team has afternoon practices where they run, jog, practice volleying and play games against each other.
"[We] run drills and have challenge matches to prepare for the real matches," Batenic said. 
All nine tennis courts at Central have been altered to create an outdoor area where players have their practices, challenge matches and tournaments.
"Now that our new courts are in great shape, we have been able to bring our varsity practice back on campus and that is a great feeling," Zsinko said.
With such a challenging sport, the team has to find ways to push through any hardships.
"We need to understand that just because something might be hard, if you push through it and face it, the reward is much sweeter," Zsinko said.
To find out more about the girls varsity tennis team, click here.