Red Devils react to 2023 Met Gala
On May 1,  the most exclusive party of the year, the Met Gala, took place. The most famous celebrities from actors to football players came dressed to the nines. This year, the theme of the Met Gala was the late Karl Lagerfeld, a former designer for Patou, Balmain, Chloé and Chanel. 
The Met Gala is organized by the fashion magazine editor of  Vogue, Anna Wintor. Each year, guests try to outdo one another in the most outrageous outfits, leaving spectators at home in awe. The 2023 event did not disappoint for spectacular fashion and A-list celebrities. However, students from Hinsdale Central High School, like the rest of the world, had varying opinions about their favorite celebrities.
 First of all, the Karl Lagerfeld theme was not a school favorite, with 58% of students expressing dissatisfaction with the choice. Possibly some of the this is related to controversy over Lagerfeld himself who reportedly had made negative comments regarding the #MeToo movement and was fatphobic to models. 
"I know he passed away and was a very famous designer so they decided to honor him, but he wasn't really a good person and was quite controversial so I didn't love the theme but I liked how it elicited some celebrities to rebel," said Ritvi Khurana, junior. 
Students picked the 2019 over the top theme of "Camp" as their previous favorite. 
Nevertheless, students had quite a few opinions on who was the worst and best dressed this year. 
Dua Lipa, wearing a vintage 1992 Chanel bridal gown, was a student favorite. 
"Dua Lipa's was my favorite. She looked so classy with the jewelry and makeup and her dress was the best," said Z Kuropas, junior. Other students commented that she looked "stunning" and "iconic".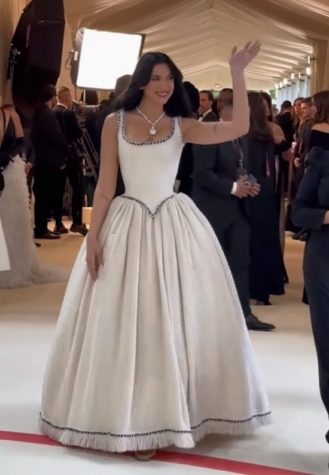 There were also some not so favorite guest costumes including three cat costumes. That is correct – three guests came dressed as cats to honor Lagerfeld's equally famous cat, Choupette. 
Not surprisingly, Doja Cat came as her namesake. However, rapper Lil Nas X decided to come as a bedazzled feline and Jared Leto came in a full furry cat costume. 
"I did not at all expect Jared to come in a whole furry suit and having not one, but two cats at the Met Gala was very surprising, although Doja looked great. And I knew Nas would go all out but I was not expecting that," Khurana said. 
Hinsdale Central students seem to respond in a way the Met Gala organizers were probably hoping they would. This biggest fashion event of the year would not be so famous if it didn't come with controversy and its iconic jaw dropping moments. This left students with some of their own "hot takes" on the event.
"[The guest list was] boring this year," said Davon Johnson, freshman. "They all just choose to do Karl Lagerfield at Chanel when he has worked at so many other fashion houses."
Next year's Met Gala, as always, will occur on the first Monday of May 2024. The theme is still to be announced.
Leave a Comment