With every turn of the season comes an obligatory seasonal playlist to match. Here's a list of cozy songs to get you through the chilly season.
"Kiss Me" by Sixpence None The Richer
In this 1997 romantic comedy classic, the fade in of soft guitar, a melodic tune and a sweet female voice gives you a glimpse into a school romance falling into place as the leaves fall from the trees.
Not to mention, the lyrics "you wear those shoes and I will wear that dress" and "lead me out on the moonlit floor" are both perfectly fitting for the Homecoming season.
Story continues below advertisement
Compared to others on this list, this song invokes a more lighthearted, chilly Sunday morning kind of feel. 
Favorite Lyric: "Oh, kiss me beneath the milky twilight."
"All Too Well (Ten Minute Version)" by Taylor Swift
If I could choose a song to perfectly encapsulate the feeling of fall, it would be "All Too Well." The beloved hit from Swift's album "Red" became a resurfacing hit when she released her ten minute version in 2021. 
"The vocals create an escalation in the song," said Shahnoor Shafi, junior and women's chorale member. "[It's] to where she's telling a story that has so much pain and rage."
The ballad follows a relationship as it changes from season to season, starting in fall. The second verse opens with "autumn leaves falling down like pieces into place," setting the scene for an autumn love. 
Favorite Lyric: "You kept me like a secret but I kept you like an oath." 
"We're Going to Be Friends" by The White Stripes
I might be a little biased because this has been a fall song of mine since middle school, but "We're Going to Be Friends" is another wholesome schoolkid song that will surely warm your chilly heart. 
The song starts off with exposition on the narrator and their friend: "fall is here, hear the yell, back to school, ring the bell." The soft, indie guitar chords also create the illusion of being back in elementary school, trying to step on all the crunchy leaves on the sidewalk.
"When I think of that song, I think of the movie 'Wonder,' which takes place during the fall time," said Izzy Plumpe, junior. "That's why it's a fall song to me." 
Favorite Lyric: "We don't notice any time pass, we don't notice anything."
"Like Real People Do" by Hozier
This whimsical song is off of Hozier's self-titled, 2014 album. Its intimate lyrics and angelic vocals combine to create that cozy sense of fall. 
"The vocals are super chilling," said Theo Tjernstrom, junior. "They make the song really interesting and romantic."
With its soothing nature, this song is perfect for orange autumn mornings and quiet afternoon walks.
Favorite Lyric: "I knew that look, dear, eyes always seeking." 
"Warm Glow" by Hippo Campus
Released in 2017, this song off of Hippo Campus' three track album is one that perfectly emulates fall. 
Not only does this song generally create a feeling of fall, but it creates an overall earthy, inexplicable feeling of wanderlust. 
The slow tempo and folk style guitar riffs are extremely calming and comforting, making this the perfect song to listen to as you curl up with a warm glass of tea and a book. 
Favorite Lyric: "The earth you knew is waiting for you, dear."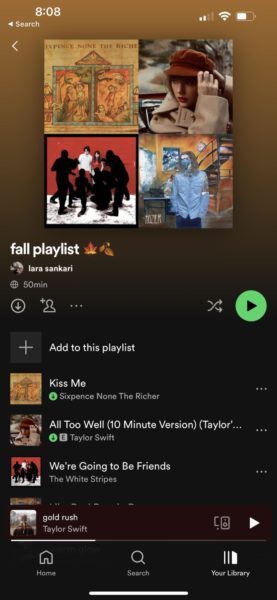 To listen to the playlist, click here.