On Wednesday, Nov. 8, the Hinsdale Central Athletics department celebrated National Signing Day, honoring 13 seniors who have committed to continue their athletic careers at the NCAA level.
National Signing Day is a nationwide event where students who have committed to participating in sports on the collegiate level sign their National Letter of Intent (NLI), a letter confirming that they will attend said college. 
"It was a really good day," said Brody Marcet, senior.

Marcet committed to Ohio State University to continue his swimming career in May this year, adding that the anticipation of National Signing Day was high.
Story continues below advertisement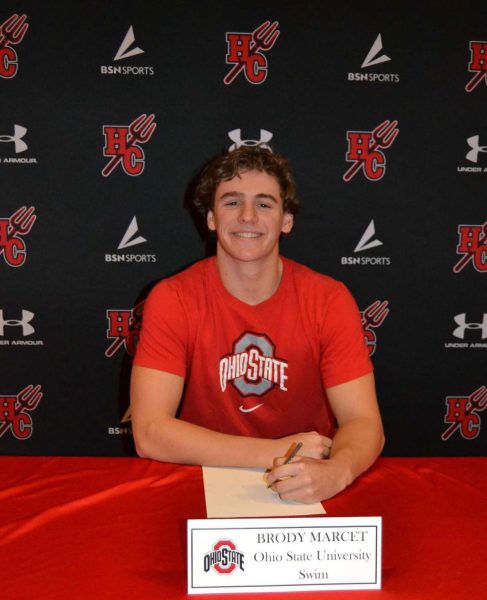 Hinsdale Central hosted this National Signing Day in the auditorium before school, giving each student the opportunity to sign their NLI in front of coaches, parents, teammates and friends. 
"It's really rewarding, especially with everyone who helped me along the process watching," said Caroline Owens, senior. 
Owens is committed to the University of Notre Dame to continue her golf career.
"I'm really excited to be a part of such a great team," Owens said.
The commitment process can be long and stressful for athletes, but sometimes picking a college to continue their athletic career was a simpler process.
"It just felt like the perfect fit," said Elizabeth Lahmann, senior. 
Lahmann committed to the University of Massachusetts Amherst to further her swimming career. Marcet took his first offer, whereas Lahmann and Owens waited it out.
"It was always going to be Notre Dame, I just wanted to make sure I was making the right choice," Owens said.
The start of this new chapter is exciting for these athletes, and many are eager to get to campus to begin practicing with their new teammates.
"I'm really excited to be a buckeye," Marcet said.