To bandwagoners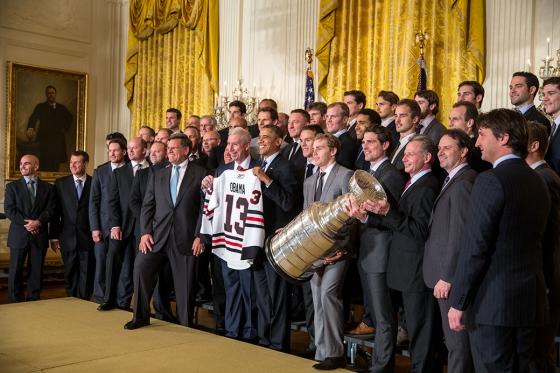 Dear Bandwagoners,
Yes, I am talking to most of you "die-hard fans" of the Golden State Warriors, Chicago Blackhawks, Chicago Cubs, Carolina Panthers, and Cleveland Cavaliers. We all love watching Stephen Curry drain those 3's from way out and celebrating Blackhawks' playoff wins, but please don't rant on about your (not) deep knowledge of the history of our team, not yours.
A bandwagoner is someone who basically jumps onto the bandwagon or starts following a team because they are in a winning or popular position. But let's talk about that franchise with their infamous bandwagoners, Chicago Blackhawks. I completely understand you want to rep your city and be proud of the team, but please be proud all year round and don't just come alive in the playoffs like Bryan Bickell does. You probably don't even know who Bryan Bickell is during the regular season, and if you don't, consider yourself a bandwagoner.
I started seeing this trend of Blackhawks bandwagoners since they made it to the Stanley Cup Finals back in 2010. Attendance spiked at the United Center, and it never came down since then. The hype was higher than ever when Patrick Kane scored that overtime goal to seal the deal, and after that, it was all gone. People immediately stopped caring and went their separate ways, until playoffs the next year.
This issue has only gotten worse the next few years. Blackhawks winning in the regular season actually got less and less exciting since you, bandwagoners, are now expecting them to win every game. You would go to games only to sit on your phones and cheer only when they score. You paid good money for these seats so make it worth your while. Also, the Chicago Blackhawks franchise is arguably one of the most successful professional sports teams in the last decade, and they definitely deserve your undivided attention and full support at home games.
Now, by no means am I discouraging you from going to games. All I'm saying is if you have no idea what you're talking about, then please do not go ranting on about our team. If you want to come aboard, please put a little more effort. The rest of us actual "die-hard fans" have driven through miles and miles of traffic and crashes before we got off on our exit to the road of success, and we are not about to let you just join us when we are in the fast lane. When we slowed down by construction, please don't take the next exit. We're all in this together, through tough times and good times. After all, that's what truly builds a strong and loyal fan base.
Leave a Comment