Girls' tennis strives for state
Girls' Varsity Tennis is still going strong after an impressive start to the 2016 season, remaining undefeated after eight meets.
The Red Devils are lead by seniors Erika Oku, Emily Otto, Megan Guenther, Mira Amin, and Jacqueline Ahn as well as junior Stephanie Dolehide. The team continues to meet the high expectations set in years past despite the recent loss of major contributor Bella Lorenzini.
Lorenzini is a tennis singles state champion and has committed to play at the University of Michigan next fall. Her decision to sit out her senior season leaves a big hole in the varsity lineup. Her time at Central has been marked by her importance as a player on three different state championship teams and the 2015 singles state championship. However, Lorenzini made the decision to sit out to rest and prepare for her debut as a Wolverine in 2017.
"It's unfortunate that Bella won't be playing this year, but she deserves the rest for this season, especially after how much she has done for the team," Ahn said. There are some silver linings to the absence of a key athlete. "I think that it allowed our team to work and stay focused a lot more at practices and at our meets," Ahn said.
Just as in years past, the Red Devils still have their sights set on a state championship.
"We definitely can't replace Bella, but there are so many talented girls at Central that we are confident going into state this year," Otto said.
With four of their victories coming in the form of shutouts, including two wins over conference rival Lyons Township, this Varsity squad has made quite a statement in the first half of the season.
"We are now about to get into the tougher part of our season," Amin said. "We are looking forward to defending our fourth consecutive state title."
With just three meets to go before the West Suburban Silver Conference meet on Oct. 7-8, the Red Devils have no shortage of momentum and expect strong performances ahead in their push to the state finals.
@Proviso West – Sept. 27
@Lake Forest Quad – Oct. 1
@Homewood-Flossmoor – Oct. 3
Conference (WSC-SIlver) – Oct. 7,8
Sectionals – Oct. 15
State Finals – Oct. 20, 21, 22
Leave a Comment
About the Writer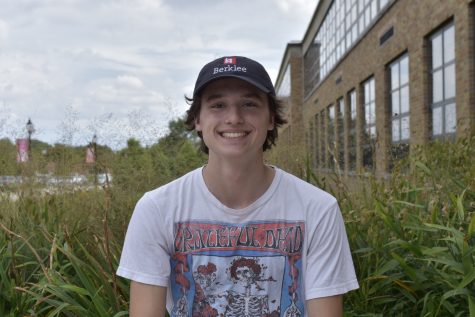 Emmett Grundberg, Writer
When he's not chasing the headiest Phish jams, he's probably at Toyota Park watching the Chicago Fire find new and creative ways to lose soccer games....