Girls' XC looks for victory at Conference meet
On Saturday, Oct. 15 at 9 a.m., girls' cross country began their postseason run at the West Suburban Silver Conference meet at Lyons Township.
The girls have worked hard all season to get to this point, led by veteran coach Mark McCabe and varsity members Molly Caveney, senior, Reilly Revord, junior, Grace McCabe, junior and Sophia Horowicz, junior.
"We are a young team, yet we still have a good deal of experience because a number of these girls have been on varsity since they were freshmen," Coach McCabe said. "It's coming together at the right time of the year as we're heading towards conference and the state series."
The girls have competed in eight meets so far throughout the season and plan to finish strong through conference, regionals, sectionals and state.
"Our goal is to always be the best we can be, and to be one of the top teams in the state. Going into conference at LT we're one of the favorites, and our goal every year is to be top five at state," Coach McCabe said.
The runners hold goals both as a team and as individuals to ensure the strongest performances possible.
"My personal goal is always to run as fast as I can at meets and practice, and grow as a runner," said Charlie Otto, sophomore. "I think as a team, a good goal is to always cheer and be there for each other."
The WSS Conference meet includes teams from Downers Grove North, Glenbard West, Lyons Township, Oak Park River Forest, Proviso West and York. Both boys and girls on all levels are competing at LT on Oct. 15.
"It's bittersweet to be going into my last meets as a Central runner," said Olivia Carter, senior. "I'm excited to see everyone's performance, but will truly miss the sport and the bonds I've made."
Beyond just looking to place at state, it is important to Coach McCabe that running also reinforces life lessons and positive behavior.
"We want to be the best we can be. There's two facets to that; one is the competitive aspect of that on the field of play, and the other is to always be known as young women of good character," Coach McCabe said. "Our goal is to accomplish both of those things and continue to move the program forward."
Following conference, Class 3A regionals will be held at Katherine Legge Memorial Park on Oct. 22, sectionals on Oct. 29 at Midlothian Meadows and state in Peoria on Nov. 5.
"If I run well [at conference], then I could possibly run at the regional meets. Otherwise, I plan to attend and cheer on my teammates at the later meets," Otto said.
The conference awards for boys and girls are scheduled at 1 p.m. in the LT fieldhouse. Red Devil Nation fans are encouraged to come watch the meet at LT's south campus, starting with freshman girls at 9 a.m., sophomores at 10 a.m., varsity at 11 a.m., and JV at 12 p.m.
Leave a Comment
About the Contributor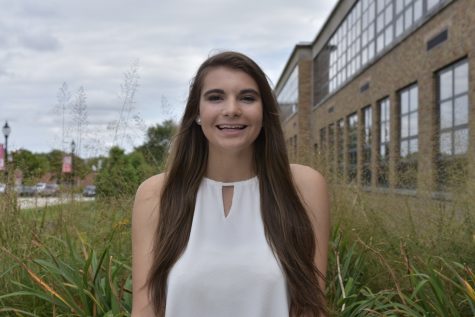 Shannon Ging, Sports Editor
Senior Shannon Ging loves writing for Devils' Advocate, especially if it is about sports. She spends most of her time cheerleading, whether it's for the...