Making strides to state
On Wednesday Oct. 4 at the Naperville Twilight Invitational, the varsity girls cross country team ranked sixth in the state.
Naperville North is ranked as the number one team in the state and one of the top teams in the Midwest after a first place finish at the Roy Griak Invitational in Minnesota on Sept. 23, followed by Yorkville, Downers Grove South, Glenbard West, and Wheaton Warrenville South.
"I'm confident in this team right now because we are really consistent and we need to be consistent," said Mr. Mark McCabe, cross country coach. "We perform well under pressure."
Mckenna Revord, sophomore, led the Red Devils by finishing in eighth place in a three mile time of 17:07 followed by seniors Reilly Revord, 17:11 and Grace McCabe, 17:15.
The Red Devils placed sixth with 137 points, followed by Wheaton Warrenville South with 100 points, Glenbard West with 87, Yorkville with 84, Minooka with 78 and Naperville North with 74.
Prior to the Twilight Invitational, the Red Devils won the Hornet Red Devil Invitational, the Flashrock Invitational in Westfield, Ind., the St. Charles North Invitational as a team, and tied fourth with Edwardsville with 143 points at the First to the Finish Invitational in Peoria, Ill.
"Illinois is extremely competitive again this year," Coach McCabe said. "Some of the top teams in the country, probably five and six of them are in our state this year, which is great because it makes everyone better."
Reilly Revord said that the team could place 2nd or 3rd at state, but it would not be easy.
"For our team, the only obstacles in our way are injuries," Revord said. "Our team needs to keep eating right, sleeping right, and keep on taking iron supplements. That's how we will stay healthy and strong."
Coach McCabe thinks that this year's cross country team can create a team dynamic, that makes themselves stronger when they are competing.
"This is a team that is very close knit and very talented," Coach McCabe said. "They are friends as well as teammates and when they go to the starting line, they want to [race] not just for themselves, but for their teammates."
The next competition will be the West Suburban Conference meet on Friday, Oct. 14 at 9 a.m. at Katherine Legge Memorial Park.
Leave a Comment
About the Contributor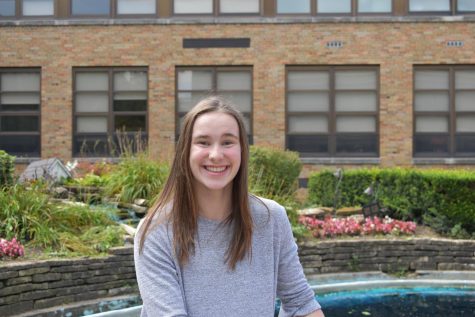 Rachel Wagner, Writer
Rachel Wagner is a junior writer for the Devil's Advocate. When she's not covering stories she can be seen at home drawing, writing, rewatching episodes...