Boys and girls cross country team concludes season at State
Both the boys and girls cross country team competed in the State Finals on Saturday, Nov. 4. The boys finished fourth overall and the girls placed tenth overall.
The race for the State title was a three-mile run at Detweiller Park in Peoria on a cloudy, 50 degrees-Fahrenheit autumn day.
Central had a few top finishers, including Colin Yandel, senior who finished 16th overall in 14:42.4; Alec Hill, junior who finished 37th in 14:57.9; Grace McCabe, senior who finished 23rd in 17:18.5; and McKenna Revord, sophomore who finished 24th in 17:22.5.
Our All-state Girls XC Runners! Congrats McKenna Revord and Grace McCabe! 🎖🎖 @RedDevilsAD pic.twitter.com/skd1zdPIhT

— Lynn Hatzikostantis (@lynnhatzi) November 4, 2017
Yandel was one of the biggest surprises of State because last year, he finished 16th in JV conference, and he improved to 16th in State this season.
"I've never had an athlete improve as much in a single season as [Yandel] has," said Mr. Noah Lawrence, coach of the boys varsity team, in a post on his blog.
Yandel's contributions led Central to its top-five finish, but it was not easy for him to compete the way he did.
"It's been a long road to get here and I've been training for this for four years," Yandel said.
Colin Yandel: From 16th in JV Conference to 16th in state in one year! What a story. What an inspiration! pic.twitter.com/yGTVVEi1NC

— Noah Lawrence (@CoachLawrenceHC) November 4, 2017
Hill was the second-best performer for the boys team. He and Matthew Kusak were the only two juniors who ran at State this year, and Coach Lawrence plans on them being the "core" of the team next year.
"Our only priority going into the State meet was run in a way that made us proud and run in a way that we gave it our all on the course. We knew if we did that we could end anywhere from eighth to third," Hill said. "The final result is dependent on how the other teams run, but we wanted to control the controllable and run in a way that we were satisfied with. We ended up getting fourth place, only 12 points out of third place and 20 points out of second. It was an excellent performance."
The runners have been training almost every day since summer and have had Nov. 4 circled on their calendars from the beginning.
"We were training for State the entire season regardless of how everything else went. We had our eyes set on Nov. 4," Hill said. "It didn't matter if we ran horribly at every single meet prior; if we executed on Nov. 4, our season would be considered a success."
It was the girls seventh straight berth in the State championship and the boys highest finish since winning state in 2014. Although this was the final cross country competition for the seniors, many will still join track in late January.
Leave a Comment
About the Contributor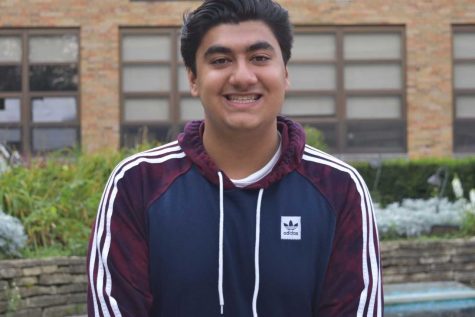 Kabir Sawlani, Editor-in-Chief
Kabir Sawlani is a senior who enjoys traveling and listening to hip-hop and alternative music. When he isn't cheering for the Cubs or the Bears, you can...