Girls' gymnastics team competes in sectionals
On Tuesday, Feb. 11, the girls' varsity Gymnastics team competed against Downers Grove South, Frankfort Lincoln-Way East, Tinley Park, Oswego High School, and Oak Park in the IHSA sectionals. The competition took place in the Hinsdale Central gymnasium.
Teams competed in events such as balance beam, vault, floor, and uneven bars. Central placed fifth in the competition, with an average point total of 135.8250. The winner was Downers Grove South with 144.0750 points, followed by Frankfort Lincoln-Way East with 141.9750 points, and Tinley Park with 141.2500 points.
"The gymnastics event that I find the most fun is definitely floor," said Charlotte French, freshman. "Floor requires the most power and excitement. If I'm ever having a bad day, I take my power out on the floor and do 10 times better."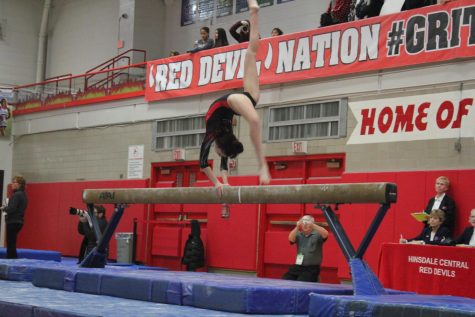 This is the 12th competition that Central's girls' gymnastics team has competed in this year and the sixth to take place at the school.
"We practice our routines repetitively each practice, which keeps us in shape and mentally prepared to perform," said Amanda McLaughlin, freshman. "We do routine after routine until we are consistent with all of our skills."
The team trains six days a week, practicing all of the events in order to compete.
"A lot of times you aren't gonna learn things easy, but you have to do it a lot before you can actually get it," said Kim Estoque, gymnastics coach. "It just takes a lot of repetition."
Senior gymnast Caroline Klobach placed in the top five for vault, floor, and uneven bars. She will be competing in those events and balance beam in IHSA state finals on Friday, Feb. 21 and Saturday, Feb. 22.
Leave a Comment
About the Contributor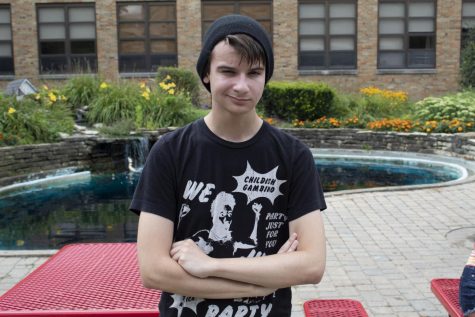 Jack Ging, Writer
Jack Ging is a senior who really enjoys writing and music. He has written hundreds of music reviews on Instagram (@album.reviewz) and has a YouTube channel...