Varsity girls gymnastics coach Kim Estoque shares insights on team and perseverance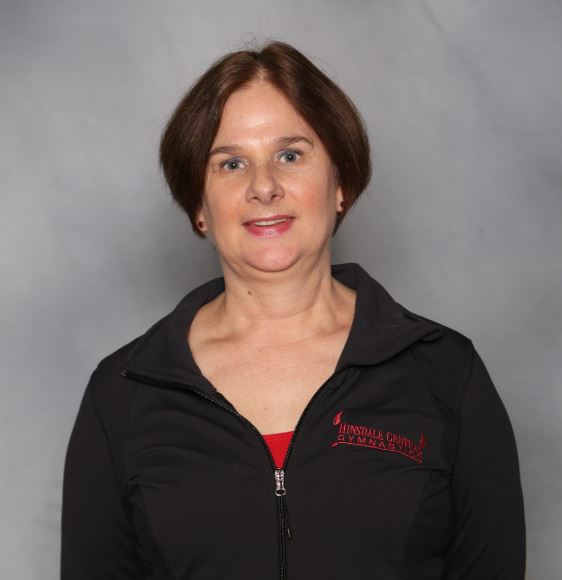 Chalk flies. Hands wring the bar, friction burning like coals. The calluses on her hands grow stiffer with each turn, dead skin and muscle the only thing connecting her to the bar. She can hear the chatter of practice behind her, the thinking of the uneven bars only giving way to the commands of her coach.
"Stick the landing," yells Coach Estoque, varsity girls gymnastics coach for the past 15 years.
Joining the Red Devils in 1991 as a JV coach, Coach Estoque has made a name for herself building the varsity girls gymnastics team into what should seem obvious- a team.
"I always say team is first," Coach Estoque said. "That's our main focus."
The team takes all types of girls, but most of the girls on Varsity transition from club, where the mentality is a lot different. Coach Estoque teaches the girls to value how the team places, instead of just their own performance, through team bonding and group coaching.
Coach Estoque grew up as a gymnast in Canada, traveling around the country to compete in national competitions. She began at age eleven, joining after moving across the country as a way to meet people. She mastered the sport, working out six days a week, four hours a day, and later placed 18th nationally in both bars and beam- but preferring the bars a bit more.
"I didn't know anyone, so it was a way to get to know people," Coach Estoque said. " I think it's a good way to get to know people."
Her experiences in her childhood competitions lead to a natural movement towards coaching, taking her knowledge from high school and college gymnastics and applying it to the kids she works with today.
The girls on the team learn a lot about how to approach the sport from Coach Estoque.
"You should always… make a routine on that event without falling then work on skills to perfect (the) routine," said Athena Koulouris, girl's gymnastics varsity team member.
The girls don't just learn about strategy- they learn life skills that will aid them later in life.
"People learn, that if you work hard, good things will come to you," Coach Estoque said. "A lot of times, things don't come easy, and you have to work at it."
Estoque watches the gymnasts work hard just like she did- something she hopes to see for many years to come. When the gymnast flies off the bar, she makes two rotations before she hits the mats- both feet planted firmly to the ground.
Leave a Comment