Picking the perfect prom dress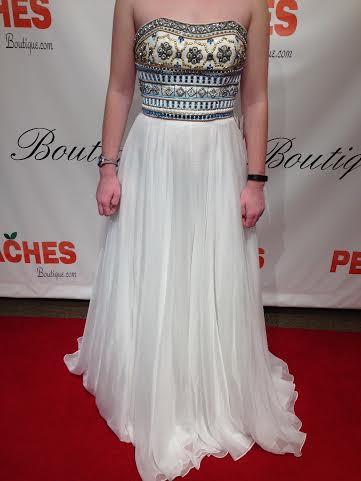 When it comes to prom shopping, there is never too much or too little a girl can buy. In the month of February, three months before prom, a "prom dress" group was created on Facebook. This page served as a useful idea outlet, but also as a severe warning. Wearing the same prom dress as someone else is considered a major fashion faux pas, and this Facebook page was created to avoid such a catastrophe. Many seniors would agree that matching someone's dress is almost unacceptable.
"I think wearing the same dress is a big deal," said Lauren Hannemann, senior.
For most girls, simply finding dresses to choose from is considered to be difficult enough. Adding in the need for something visually appealing and unique makes the decision twice as hard.
"I want my dress to be the perfect mixture of sexy and cute," Hannemann said.
Heather DeBoer, senior, feels the same way.
"[There are] three words for my prom style: fine, fresh, and fierce," DeBoer said.
In the prom dress Facebook group, there consists a mixture of multiple styles, but the designs primarily stick to the long, traditional dresses. With these diverse options, picking the dress can be difficult.
For Molly Gates, however, this was not the case. Gates, a senior, chose her dress after her first pick.
"I would describe my dress as modest but classy," Gates said.
Girls such as Katie Gibbs, senior, had specific criteria for their dresses.
"My dress had to have straps," Gibbs said. "I also didn't want any gems; that is too much for me."
Despite the difficulty in choosing the perfect prom dress, one thing is clear—any dress is bound to be beautiful.
Leave a Comment