Varsity cheerleaders thrive under new leadership
The Varsity Cheerleaders are having an exciting start to the 2016-17 school year with the addition of new coach Brittany Butler. She is assisted by Melissa Lancaster as well as fall JV coach Ilyssa Hoffman and fall freshman coach Elizabeth Palumbo.
Both Butler and the cheerleaders faced the initial challenge of adjusting to one another, since they come from different schools and cheer backgrounds. The program was previously headed by Mrs. Bianca Holland in the fall and Mrs. Kristen Bronke in the winter.
"Cheer has been going well with Coach Butler. At first it was hard to adjust because we've had the same coaches for three years," said Karsen Kolnicki, senior.
Coach Butler was previously a teacher and cheer coach at Lincoln-Way Central High School. She currently works as a Student Success Center Coordinator at Central during the day.
"Coach Butler did a nice job of working with the seniors to be informed on what we've done for games and practices in the past and such," Kolnicki said. "She was also a competitive coach before so she has been able to teach us a lot of new stunts and techniques which have really helped with our routines."
Coach Butler shares a similar sentiment about her athletes.
"I couldn't ask for a better group of cheerleaders, staff, and parents to work with. Not only does every athlete have remarkable skills, but they also unwaveringly demonstrate positive attitudes, good sportsmanship, and high motivation," Coach Butler said.
The cheerleaders perform cheers and jump, stunt and tumble on the sidelines at every Red Devil football and basketball game as well as pep rallies. The cheer squad and coaching staff saw all of their hard work pay off in front of the entire student body at the Homecoming pep rally on Sept. 30.
"Our Homecoming routine was one of the best we've ever done. We feel like a lot of the student body got into it, which is great because of all the hard work we put in," said Caroline Langan, senior.
All of your hard work really paid off! Thanks for sharing your amazing performance with us! ?❤️ #HoCo #2016 #Flawless #Goals #Cheer #CCT pic.twitter.com/KDRgIdBatY

— ChicagoCheerTumble (@ChiCheerTumble) October 6, 2016
The Homecoming performance is the main routine the squad works on beginning during their summer practices.
"All of the coaches could tell that they put their heart and soul into this performance, and we couldn't be any prouder of their accomplishments," Coach Butler said.

The team's effort and passion behind their sport radiates into the crowd at every game and assembly they perform at.
"Our season so far has been super fun because everyone on our team gets along very well and puts in a lot of work. The games have been very exciting to cheer at because our football team is 6-0 so far," Kolnicki said.
On Friday, Oct. 7 the Red Devils face the also undefeated Lyons Township in a rivalry showdown. This game is sure to be high in attendance with a packed Red Devil Nation fan section, so expect an equally strong showing from Red Devil cheer.
Leave a Comment
About the Contributor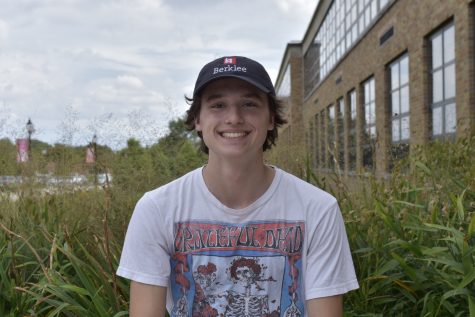 Emmett Grundberg, Writer
When he's not chasing the headiest Phish jams, he's probably at Toyota Park watching the Chicago Fire find new and creative ways to lose soccer games....