Page's Diner hits the spot
Situated next to The News Agency in the lively downtown Hinsdale, Page's brings a chill '50s feel to the often fast-paced vibe of the commercial district.
"Page's is unlike any other restaurant in Hinsdale because they consistently produce quality food, and their staff is very friendly. They also have a wide variety of options to choose from," said Nate Sutton, junior.
Page's serves as both an early morning café before catching a train to Chicago and as a family-friendly diner until 2 p.m. The recently redone leather booths add a touch more neatness than the duct-taped ones that used to be there. Immediately inside the door there is a basket of house-made apple cider doughnuts, each for only $2.
The menu at Page's offers a vast selection of breakfast and lunch items. Ranging from cheeseburgers and sandwiches to skillets and pancakes, the majority of the menu items are under $15.
"My favorite item on the menu is the California omelet,"said James Giltner, junior. "It's light and fluffy, but it's also massive. It includes avocado and tomatoes, along with ham and mushrooms, and it's always cooked perfectly."
I ordered the Huevos Rancheros from the specials section of the menu. This dish consists of three soft corn tortillas, each under a generous serving of scrambled eggs, chorizo sausage, and salsa verde. The taste is very rich and the serving will not leave anyone unsatisfied. The combination of the zesty salsa and spicy chorizo work in synchronicity to make the perfect taste for anyone who likes a spicier flavor scheme.
Page's has some of the best service in the area. The waitresses meet every possible need, whether that be customizing an item on the menu, finding out about allergen free foods, or simply making every customer feel welcome.
There is a very community-based and family-friendly feel at Page's that adds to the experience as well. The walls are coated with photographs of families who have been to the diner with the kids, Hinsdale Central athletic teams, and regular customers who provide the hardworking employees with their paycheck.
Page's is located at 26 ½ east Hinsdale Ave, Hinsdale, Ill., 60521.
Leave a Comment
About the Contributor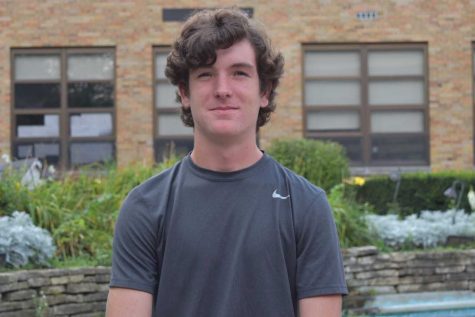 Peter Hughes, Writer
Peter Hughes is a junior who runs cross country and track. If he's not running, it's probably because he's either playing guitar or injured....